Every business wants to make profits. However some insurance claim adjuster 's use secret tactics to reduce payout amounts.
As a result of increased hurricanes, storms and other types of unexpected incidents, more homeowners are reporting damage and filing more claims.   The result is that damage adjusters need to use special tactics as a way of reducing costs.  Read about one of the most common new tactic below.  In this article you will learn about some insurance claim adjuster secret tactics used to underpay and deny claims.
Learn about them here: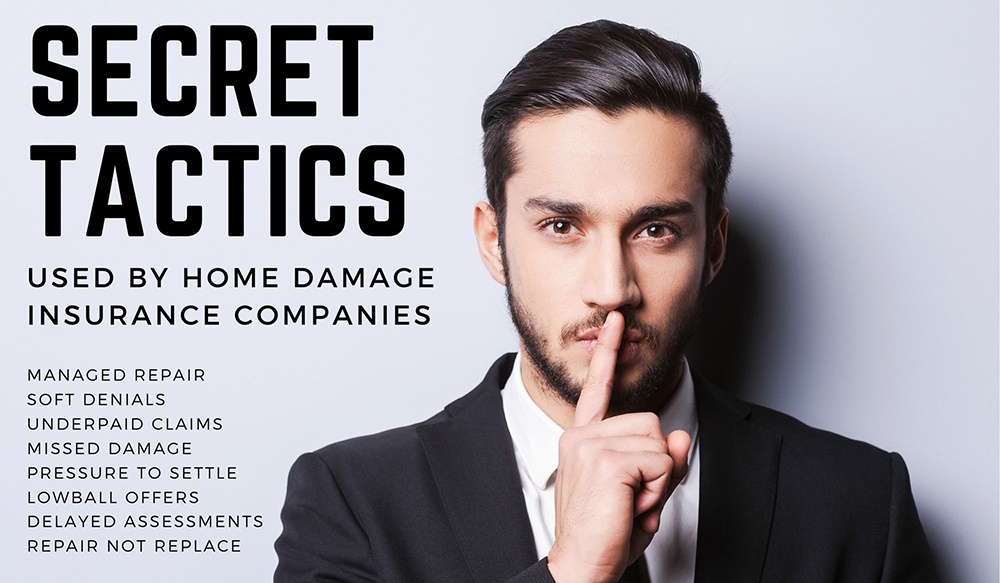 Managed Repairs and Your Insurance Policy
As hurricane season arrives in South Florida, many homeowners have enough to worry about in the coming months.  If you read this article you may be able to eliminate one of your future home insurance calamities.
For those who have never filed an insurance damage claim, thoughts of insurance agents bring to mind that nice helpful agent who sold you your policy.  Whenever you want to add more coverage, you simply call him up and have a great conversation about your house, the kids, and your vacation plans. In many homeowners mind, that agent is your buddy, who is always looking out for your best interests.  While your agent may be a good guy, but he is merely the agent for the insurer; it's the insurer that holds all his strings and will ultimately decide what happens when you file a claim.  One point to keep in mind, when you have home damage, your insurance agent is not the one who inspects your South Florida home.  That job belongs to the company insurance adjuster. Did you know that home insurance claim adjuster's have secret tactics that they may use to deny or underpay a damage claim?
Turning profits is the main goal of most insurance companies.  The equation for profits is simple, collect more money and pay less in damage claims.
While the concept is simple, insurance companies are experts at working this equation.  After years of refinement and with the help of brilliant financial minds, insurance companies have created many methods to keep profits high, while returning the minimum amount to homeowners.   Some insurance companies practice the art of claim denial, others use the underpayment method, of course there is the, your deductible is more than the repair, method known as a verbal denial.  One of the most creative money saving methods used my home damage insurance companies is the practice of "Managed Repair"
What is Managed Repair?  In a nutshell, managed repair, is when a homeowner, gives the insurance company exclusive rights to handle your home damage repair.  This gives the insurance company to ability to control costs by working with repair companies that offer discounts to the insurance company, or repair companies that use other cost cutting methods.  I'll get into these cost cutting methods later in this article.  Check out this homeowners experience with "Managed Repair"
Read Your Policy.
Although you should always read everything you sign, it is not always practicable. However, now that you missed the first pass, take a second look. Some words that you should look for are "Right to Repair," "Option to Repair," "Managed Repair," or anything similar. If you only have a paper copy of your policy, call your agent, and ask for an electronic pdf copy. Then, using your default PDF reader, you will be able to press CTRL + F or do a search for these terms. You may want to start with just "repair" to make sure your insurance company didn't come up with some similar language meaning the same thing.  There are several ways that insurance companies reword what is essentially managed repair as a way of asking homeowners to give up their rights to hire the repair company of their choice.
What Does Option to Repair or Right to Repair Mean?
Option to Repair, or Right to Repair means that the insurance company can decide, after meeting certain procedural requirements, such as providing you with a specified notice, to offer to repair your property itself, after you file a claim. This may not be the exact type of repair that you imagined. For starters, the insurance company will decide who will repair it, when it will be repaired, and even how it will be repaired. What if you don't like how the work was done? What if the contractor starts the job and doesn't finish it? What if the work literally is drawn out since the contractor is juggling so many other jobs? Assuming you were unable to get rid of this clause, and before the work even starts, you may want to contact a Public Adjuster. The Public Adjuster's fees will be capped in the State of Florida. He/She can help you negotiate with the insurance company to make sure that the job is being done properly and that no corners are cut. This is no time to tackle a Goliath on your own.  As a Public Adjuster who is based in South Florida we see this managed repair clause often.
What Does Managed Repair Mean?
Managed Repair is very similar to Option to Repair. The only difference may be certain notice requirements are missing. Just like the Option to Repair, the insurance company will use its own contractors, decide on the exact timing of repairs, and decide when the job is completed, even if it does not meet your definition of "complete." The Florida Association of Public Insurance Adjusters explain on www.fapia.net that "Insurance companies will either own the repair company themselves or enter into contracts with contractors and restoration companies to control the repair process." Once again, check your policy. You probably are saving pennies on your premiums and looking forward to a potentially hellish experience. Consider changing your policy now!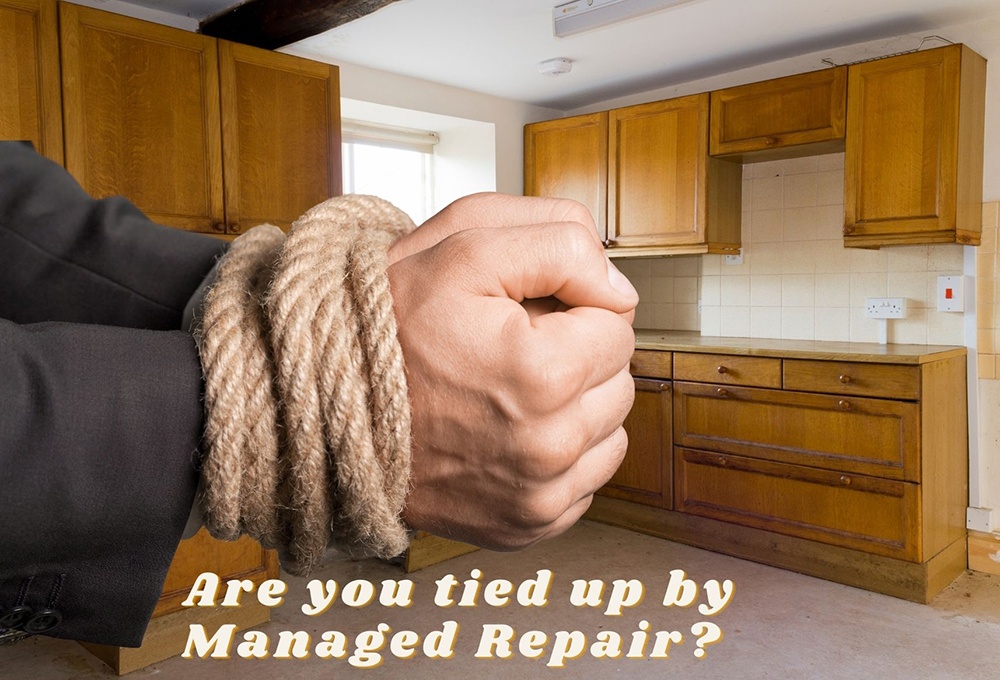 What is Florida's Citizens Property Insurance Corporation's Managed Repair Program?
In 2017 as a result of hurricane Andrew Florida created what is known as the Florida's citizens managed repair program.  This program is made up of a network of contractors who are willing to tackle home water damage on the behalf of the insurance company.  Often an insurance company will try to manipulate homeowners into this program.  As if a regular managed repair clause isn't bad enough, Citizens, a tax-exempt government entity, offers a Managed Repair program for non-weather-related property damage, if caused by water. If you have a claim, a license contractor will come out to repair the damage. The policy will limit you to $10,000 on your claim if you do use a Managed Repair Contractor. If you decide not to participate in the Managed Repair program, your claim will be capped at $3000. That's quite the twist to the arm!  Our advice as a Florida based public adjuster is to have an independent insurance agent, or a South Florida public adjuster such as us, review you policy.
How Can a Florida Public Adjuster Help You Whether You Have One of These Clauses or You Don't?
A Florida Public Adjuster can help you by being the one who is on your side, unlike your insurance agent who certainly does not work for you! If you get caught with one of these clauses, the Adjuster can negotiate with the insurer to make sure that the contractor will be doing the correct type and scope of work as well as oversee the quality of the repairs. With someone else intervening, the insurer will be less likely to stonewall you and refuse to answer your phone calls. If the work is improperly done, he/she can negotiate with the insurer to have it redone. If the contractor is working one hour at a time, the Public Adjuster can keep a log and try to get a contractor who can complete the job in a reasonable amount of time.
Although all of these clauses are similar, you need to be especially careful of getting a policy from an insurer with very low caps. For example, capping work at $10,000 for water damage if not water related if using a mandated contractor and only $3000 otherwise does not make good insurance. You certainly do not want to find out these limitations after you file a claim. If you do your homework, remove these clauses, or consider changing companies if your own will not make any changes, you will be way ahead of the game. Placing hidden caps on damage coverage is just one of insurance claim adjuster secret tactics.
Why should you call Fox Public Adjusters at the first sign of home damage or at the start of hurricane season?
After 30 years working as Florida's number one public adjuster we have seen every type of property damage situation possible.  Our expertise includes storm damage, fire damage, damage from broken appliances, hurricane damage, even vandalism.  While it's true that most of our work is related to storm and hurricane damage, we have plenty of experience with other types of water damage.  In addition we are certified mold experts.  Our experience with mold removal means that we consider mold damage a possibility in every water damage case.  After reading the article above, it's easy to understand that insurance companies will try their best to only repair the visible damage and save the hidden aspects of water damage for the next claim.  By the way, often it's that next claim which includes the worst damage. This second claim is also the one that gets denied most often. Today there are more insurance claim adjuster secret tactics being used than ever.  As South Florida's number one public adjuster, it's out job to continuously find and help homeowners avoid these secret tactics.
Our experience as a construction contractor and a former insurance agent gives us the edge over your run of the mill company insurance adjuster.
Many company insurance adjusters are over worked, and less knowledgeable than a public adjuster.  Why, the simple answer is, a public adjuster gets paid by helping home and property owners receive a fair settlement that covers the entire cost of all the damage repair.  The more experienced and knowledgeable the public adjuster the greater the ability to find and document all the damage.  For example, in a water damage situation that results from a broken plumbing pipe, a typical insurance adjuster will have the water removed and the pipe repaired.  Trying to be cost conscious, the insurance company may stop searching for issues once the repair has been made.  In addition the homeowner may have signed a managed repair clause.  In this case the most efficient contractor possible would likely do the damage and repair.   However, as a South Florida public adjuster, we will also check for mold damage, rotted wood, warping of floor panels and more.  We understand, that once the homeowner signs off on the repair, getting the insurance company to pay for more repairs could be a challenge.  On a side note, as a Florida public adjuster, we could re-open a claim.  Since we are well aware of the insurance claim adjuster secret tactics being used, we can head these tactics off before your claim is underpaid or denied.
Other insurance claim adjuster secret tactics include, delayed assessments and settlements, in this case, the insurance company simply waits as long as possible to respond to a claim.  The theory here is that the homeowner will get tired of waiting and settle for what ever the insurance company offers.
Our services are available all over most of Florida.  While we are based in Boynton Beach, most of our clients are in Broward, Palm Beach and Martin Counties.  However, over the past year, our excellent reputation has led us to file damage insurance claims in the Gulf Coast as well.  Recently we helped homeowners get the settlement they are entitled to in Tampa, Fort Meyers and Naples as well.
We hope you have found this article helpful.  If you are living in a home that has suffered from water damage, from a storm, hurricane, broken plumbing, or a malfunctioning appliance call us at (561) 789-4369