As we head into storm and hurricane season, NOW is the time to start preparing.  By enacting these 10 tips, home &  property business owners can feel confident they are ready to face what lies ahead.
On August 4th, NOAA scientists changed their prediction for the 2021 Atlantic hurricane season. The likelihood of an above-normal 2021 Atlantic hurricane season is now 65%. As explained by the lead seasonal hurricane forecaster: "A mix of competing oceanic and atmospheric conditions generally favor above-average activity for the remainder of the Atlantic hurricane season, including the potential return of La Nina in the months ahead."  This means that there is a much greater chance that Tampa and the Gulf Coast of Florida will face a major hurricane.  Last year we spent a great deal of time inspecting Gulf Coast homes for roof damage as a result of the 11 storms that hit the area.  Many of these homeowners hired us at their Public Adjuster in Tampa because their insurance company denied their roof damage and mold damage claim.  Needless to say, it was a busy time for us.
UPDATE: Time to prepare is running out.  
Currently hurricane Ida is churning away in the Gulf.  While its a good distance from Tampa and the surrounding areas, this doesn't mean that homeowners in the area should not be concerned.  At this time It's looking like Ida is going to hit Louisiana, however the out eastern bands are going to cause some serious storm damage in the Tampa area.  Looking at the satellite image below you can see how their is storm activity taking place over South Florida's west coast.  If your home is in good shape with no roof damage and no yard debris then you should expect Ida the result in tropical storm like weather around the Gulf Coast.  The storm will cause heavy rain, flooding, wind damage to many Tampa area homes.  I Ida is named storm number 9.  Considering that we are in the month of August, with 9 named storms so far, it's just another wake up for Tampa and South Florida property owners to make sure your is prepared .  For the residents and homeowners of Louisiana, time is running out. Unless you leave NOW, The location that you are in now, is most likely the location that you will be in when the storm hits.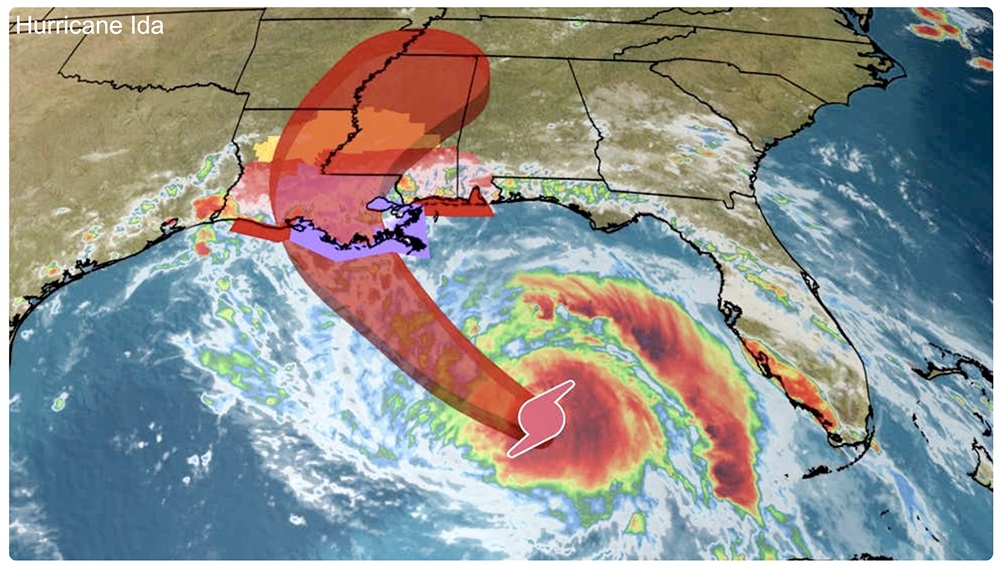 When you consider the latest repost from NOAA anyone can tell you, there will at least be some scary days ahead, how do you prepare? Here are ten suggestions: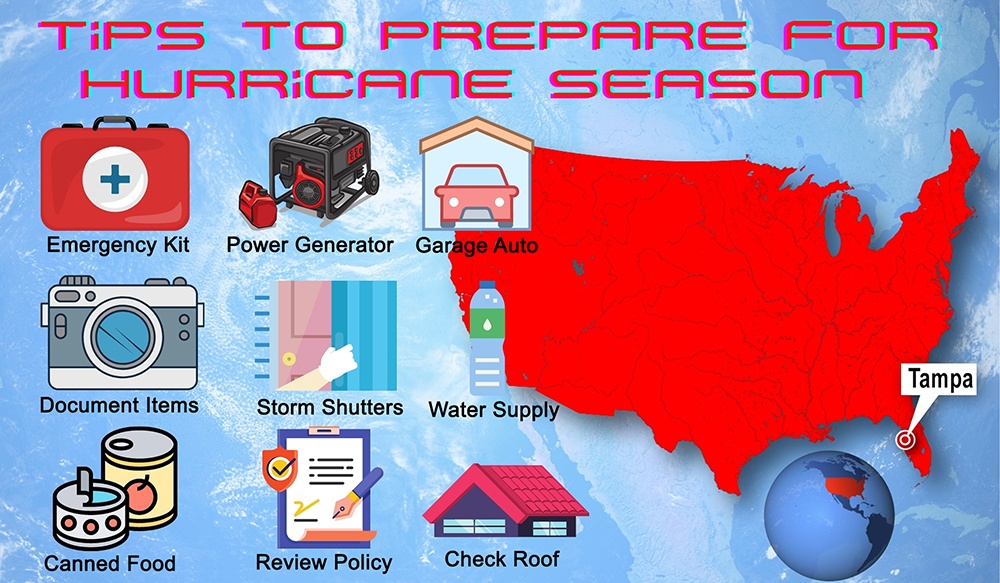 (1) Check Your Roof
Have you had your roof inspected after last years' storms? It is crucial to make sure that all of your shingles and other roofing is intact and that your gutters are clean. If you fail to do this and you do have leaks due to poor maintenance, your insurance company may refuse to pay for any damage. On January 1st of this year, Florida mandated certain changes to roofs to improve resistance to wind damage and water infiltration. So, if your roof is close to the end of its useful life, you may want to install a new roof with the more stringent requirements to protect your house.   One of the biggest, jobs we face as a Public Adjuster in Tampa Florida is handling denied or underpaid roof damage claims.  This is a situation that we face over and over.  Insurance companies have plenty of reasons to deny roof damage claims.  As a matter of fact, we hear about more ways some insurance companies creatively underpay or deny claims; it keeps us on our toes.  Do not even think of making any repairs yourself! Florida law prohibits it. Also, look for any trees that may interfere with your roof and can cause a hazard during hurricane season
(2) Make Sure Your Back-Up Generator is Ready and Working.
If you don't have one already, do not wait until there is a hurricane to buy one! With all of the supply chain issues during this pandemic, it is clear that it is always more difficult to get what we need. So, the greater the lead time, the better.
Always remember to never use your generator inside your home, garage, crawl space or any enclosed area. According to The National Safety Council, "neither a fan nor open doors and windows can provide enough fresh air." It also recommends using a battery-powered carbon monoxide detector where you are running the generator.
(3) Have a Plan to Garage Your Cars.
You need to move your car(s) to the garage to protect it when everything starts blowing around. According to Autotrader, "If you don't have a garage, try to park your car under some sort of overhead cover or next to a building to avoid leaving it fully exposed — though avoid parking it anywhere near a tree or power lines, as they could topple over on the car and destroy it. You likely won't want to be separated from your car during a storm, so you may not want to drive somewhere else (like a parking garage) to park it undercover."
Read: How to protect your car in a hurricane.
(4) Protect Your Home by Protecting Your Windows
In a 2019 article, The Miami Herald discussed what not to do during a hurricane. Do not tape your windows, and do not crack your windows. Another bad choice is window film, which is not to be used in hurricanes. This is different than AstroGuard hurricane fabric which is actually a good option and attaches to your home using patented clips.  But what should you do? You should plan in advance, meaning right now! Instead of using plywood, which may be far from the best choice, consider storm shutters. Some of these can be permanently attached so you do not need to put them up and down every time a storm. Another great, though expensive option, is High-Impact Glass windows. They may reduce your homeowner's insurance bill and reduce noise as an added bonus. Again, make sure that tree branches are not close enough to your windows to do any damage in a hurricane.
(5) Create a List of Your Home Inventory
In the event of a loss, it may be difficult to remember exactly what you own. What about your gold and gemstone jewelry? What about those sports cards? The piano? The TVs? The computers? The list is long, but you can take care of this quickly. You can take photos or make videos, but you will want to include details including the serial number. When you finish, you don't want to be the only one who has the inventory. You can share it with trusted family members in a file so they will have it as well. For more details about the process, go to How to inventory your home before hurricane season.
When we get hired to represent a homeowner, we need to provide a complete inventory of damaged items.  Often we find that some homeowners have not taken pictures or video of their homes contents, which means that we must work backwards to document some personal items as well as convey the home damage through pictures and video.  As a Public Adjuster in Tampa Florida,  we are well aware of the insurance company requirements and we work hard to provide the needed images.
(6) Review Your Insurance Policy
Hardly anyone reads the entire policy. If you don't understand what it says, ask your agent, but make sure that you receive verification in writing. This is because your friendly insurance agent actually works for the insurer – not you! Especially in Florida, there are sneaky "Managed Repair" clauses which give insurance companies the right to decide who, when, what, and how your house will be repaired after a hurricane event. You will lose control over the process, even if more needs to be fixed or the worker does an inadequate or incomplete job. Now is the time to try to get rid of that clause – even if you have to pay more in premiums. Make sure that any additions to your house are included in your policy, such as an outdoor gazebo or screened porch. You need to insure those too!
(7) Have an Emergency Bag
Consumer Reports recommends that you have a bag ready to go in the event of an emergency. It suggests you include water and non-perishable healthy food, a phone charger, flashlight, and a radio, a change of clothes, IDs, important documents, cash in small bills, first aid kit and meds, and more. Check out  How to create an emergency kit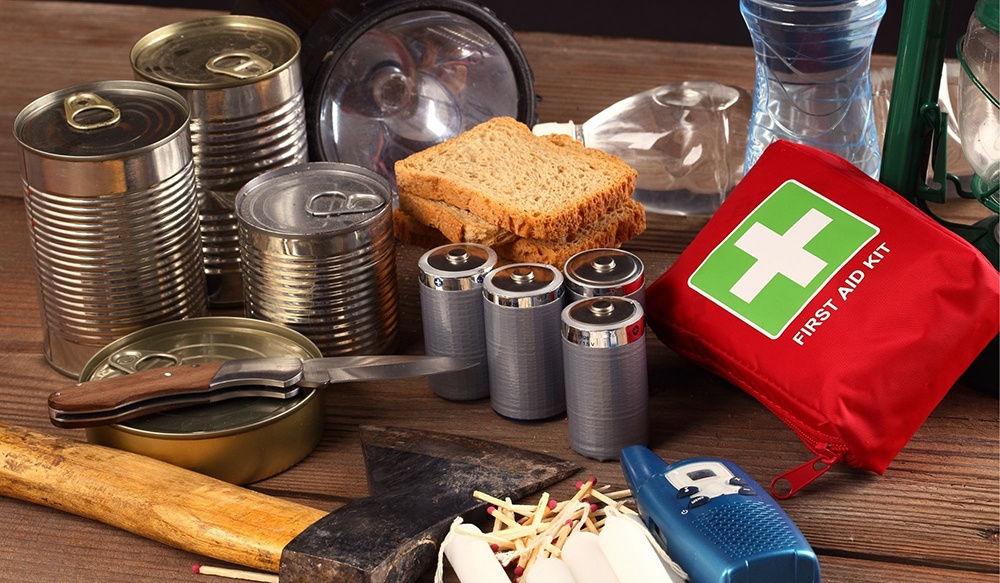 (8) Store Water but Safely
This detailed article explains how to store water safely, including using products labeled "food grade" and not storing water containers near toxic substance areas with gasoline or pesticides. You can buy a 100-gallon emergency water storage container to put in your bathtub and use that water for drinking. Some other stored water may be appropriate for cleaning and bathing only. For more, read this: Storing emergency water in a safe way.
(9) How to Prepare for Electrical Outages and Food Safety
Guidance from the FDA suggests having thermometers in the freezer and refrigerator, containers of ice, if possible, coolers, gel packs, and dry ice, a manual can opener, and bleach to name just a few of the suggestions. To find out everything crucial to keeping your food safe, go to Keeping food safe during and after a hurricane
(10) What If You Do Have Damage and Need to File a Claim?
If you need help to determine the extent of your damage as well as filing your insurance claim, consider hiring a Public Adjuster. Although you still may think of your insurance agent as representing your needs, remember he/she is working for the insurer. The Public Adjuster will be working for you! Fees are capped under Florida law, and Public Adjusters must meet strict requirements to be licensed. If you have filed a claim, and you are unhappy with what the insurance company offers in terms of compensation or work to be done, then you have a good reason to contact a Public Adjuster who will work with your insurer on your behalf.
There is so much that you can do to come out on the other side of hurricane season in decent shape. Even with all these precautions, things do happen, but not nearly as often. If they do, remember, you can call us and have us represent you as your Public Adjuster in Tampa Florida to help you through the insurance process while you tackle what you really need to do right at that moment.
About Fox Public Adjusters.
If you are facing home damage as a result of a storm, hurricane, broken plumbing pipe, fire or any other unforeseen situation, than chances are it's worth you time to call us.  While there are plenty of Public Adjusters in Florida, few have the experience, skill level and background that Fox Public Adjusters has.  Before becoming a Public Adjuster, Todd (Owner of Fox Public Adjusters) spent years working as a building contractor and then a home insurance agent and insurance company adjuster.  To say that Todd understands the home damage insurance business is a huge understatement.  This means when Fox Public Adjusters is called to inspect a home or business property with damage, his investigation goes much deeper than just a visual inspection and a hand shake.   Todd will not only assess the visible damage, he will also determine the cause and submit a claim that will insure the damage doesn't occur again. In addition, as a Tampa Public Adjuster, we understand that the high humidity in Gulf Coast is conducive to mold growth.  This means that a small water leak from a damaged roof, broken plumbing pipe or any other sort of water intrusion can turn into a mold problem.  When we do find these issues, our years of experience in working with insurance companies and handling clams insures that we will make sure our clients receive the proper settlement.  As a matter of fact, property owners who hire a public adjuster first, receive a settlement that is on the average over 700% higher than those that don't.
The bottom line:
As we move into this years storm season, now is the time to start preparing your home for the chance of unexpected hurricane or storm.  If you do find your home has suffered damage, call a Tampa Public Adjuster first.  As a matter of fact, do yourself a favor and call Fox Public Adjusters at (561) 789-4369