Don't play games with water damage to your home or business.
At Fox Public Insurance Adjusters, our goal is to help  homeowners recover from South Florida water damage issues resulting from Storm Damage, Fire Damage, Flood Damage, Hurricane Damage, Wind Damage and more.  We serve all of Palm Beach County including Port St. Lucie, Stuart, Deerfield Beach, Fort Lauderdale, Pompano Beach, Boca Raton, Delray Beach, Boynton Beach, Lake Worth, Palm Beach Gardens, Jupiter and West Palm Beach.
Why you shouldn't play games when it comes to water issues in your home or business
We hear it all too often –  folks visiting the doctor trying to figure out why they have headaches and respiratory problems. After many rounds of antibiotics, they find out it is their home which making them ill.  Did you know that mold growth can start in as little as 24 to 48 hours after an intrusion.  It only takes a broken washing machine, dishwasher hose or a slight roof leak to create a water issue.  If you think you have a water or mold problem in your home or business, call us at Fox Public Adjusters for a free inspection. After a storm or hurricane,  slight roof damage could cause a water leak that is often not noticed until people in your home start getting sick.  It's always a good idea for homeowners to take some safety steps to insure there are no water leaks crated from a past storm or hurricane.   Hidden South Florida water damage is one reason why people become ill and later learn they have a home or business property mold problem.  If your home smells musty and your suspect mold, it's important to take immediate action.  You can learn more about the health hazards related to mold here:  Mold Health Issues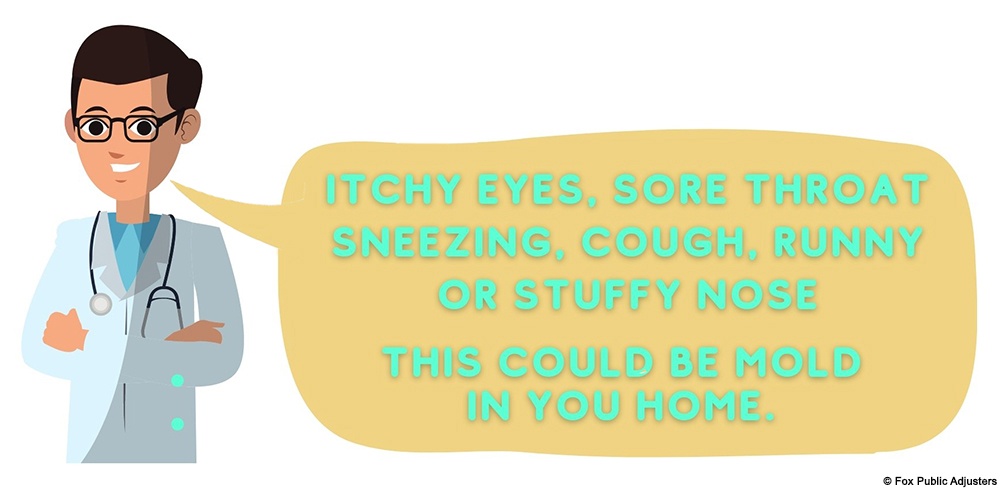 Small leaks could became big mold problems!        
How to find roof leaks after a storm or hurricane
How can you tell if you have a leak from a damaged roof?   Below we put together helpful information regarding what homeowners should look for, and repair, after a severe storm or hurricane in South Florida.
You can find signs of a leak by looking at your ceilings.  If you see water stains, even slight discolorations,  that is a sign that indicates a roof or gutter leak may exist.   If you see something call us to investigate.  Chances are it's a simple repair.  However, left unchecked it could turn into a serious mold problem.  The key is to handle the leak before the moisture or water intrusion turns into mold.  We are happy to assist you to make sure your home is moisture free and you are safe from mold illnesses.   If you find a water spot on your ceiling call us to help you address the situation immediately and to avoid further costly damage and mold related health issues.  It's worth your time to double check your ceilings after a storm or hurricane.
Because water can enter your home from either clogged or damaged gutters, double checking your property after a storm should be a priority.  When this happens, you will often see water staining on your walls.  Make sure you give your walls a good visible inspection.  In addition, it's a good idea to take a walk around your home or property to look for signs of puddles near the base of your house.  If you find a puddle, this could be a sign that a part of your rain gutter is missing or the water is spilling over your gutter.  Over time, rainwater can erode the framework of your home and get into your home.
Make sure you also look for cracks or staining near your windows and doors.  While it's possible that a window may not have been completely closed and some water leaked in, you should make sure the window frame or sealing around the window is not damaged.
Is this Mold or Dirt?
Usually mold is easy to spot,  however, sometimes mold can appear as a simple smudge or as a dirty wall.  If you see a part of your a wall surface that looks dirty,  you can do a simple home test to confirm the stain is just dirt and not mold. Just dip a swab in diluted bleach and dab it on the dirty wall.   If the dirt or smudge quickly lightens,  you should consider that there is a good chance it's mold.
If the air in your home contains a musty smell, and you are concerned that you are facing a mold issue, the best course of action is to have the area tested by a professional mold removal company.  Doing this will not only give you piece of mind, but will also save you unneeded stress at a later time.   If the test results come back negative, then you can rest assured that the smell is most likely temporary and should dissipate in time. If the mold test is  positive for mold spores, then your mold specialist could determine what type of mold is in the room, and how to safely treat it.  For more information on mold, and how mold in grows, as well as different types of mold, read our other article here:  
Mold removal in South Florida
We are based in South Florida and cover all of Palm Beach County. If your home is located Port St. Lucie, Stuart, Deerfield Beach, West Palm Beach, Fort Lauderdale, Pompano Beach, Boca Raton, Delray Beach, Boynton Beach, Lake Worth, Parkland, Palm Beach Gardens, and Jupiter call us at (561) 789-4369. We are always here to help.  In addition, there is no charge for us to visit your home and determine if you have a serious mold issue.
If you see something, smell something, then say something and call us at Fox Public Adjusters – we can help you with your water and mold situation.