If you live in South Florida, are are searching for a public adjuster, call us at (561) 789-4369 as the area's number one public adjuster we can help you handle your insurance claim issues.  We serve the following towns, West Palm Beach, Jupiter, Palm Beach Gardens, Lake Worth, Boynton Beach, Delray Beach, Boca Raton, Pompano Beach, Fort Lauderdale, Deerfield Beach, Stuart, Port St. Lucie, Greenacres, Riviera Beach, Wellington, Royal Palm Beach, Lantana and all of Palm Beach, Broward and Martin Counties. 
Pictures from a recent roof leak in Boynton Beach.
In this case, the Boynton Beach homeowner found that black moldy growth was appearing at the base of the walls.  This is usually the first sign that there is a problem.  When water intrudes from a home roof the water often finds it's way downward by traveling inside the walls.  Water pools at the base and within 24 to 48 hours mold spores start to grow.  This Boynton Beach homeowner had past experience with insurance damage, so when they suspected they had a problem they looked for public adjuster near by.  Since we are local to their area, they found us.  Upon inspection Todd saw signs of mold growth behind the base board.  Once he removed the baseboard the growing mold was visible.   Removing mold is much more difficult than most homeowners think.  Before I started working for a Boynton Beach public adjuster, I thought "Like every homeowner" that you could simply wash the mold away.  This is not the case.  Mold is a growing living organism that is extremely difficult to remove.  The only way to rid you home of growing mold is to remove the damaged mold infected material.
ABOVE: Here you can see the location wall after we removed the infected drywall.  One of the reasons why removing mold is so difficult has to do with the fact that mold grows and travels by producing tiny seeds or mold spores.  These spores become airborne very easily.  As a matter of fact, mold spores are always present in the environment.  We breath them, they are in every home, and are a natural part of the environment.  In tiny doses these spores are harmless.  However, some people do have allergies to certain pollens and mold spores.  The problem occurs when these dried mold spores, or seeds become damp.  Once this happens they grow and spread rapidly.  Simply wiping away the black or brown visible mold only serves to move the spores around.  It's akin to a doctor treating symptoms without curing an infection.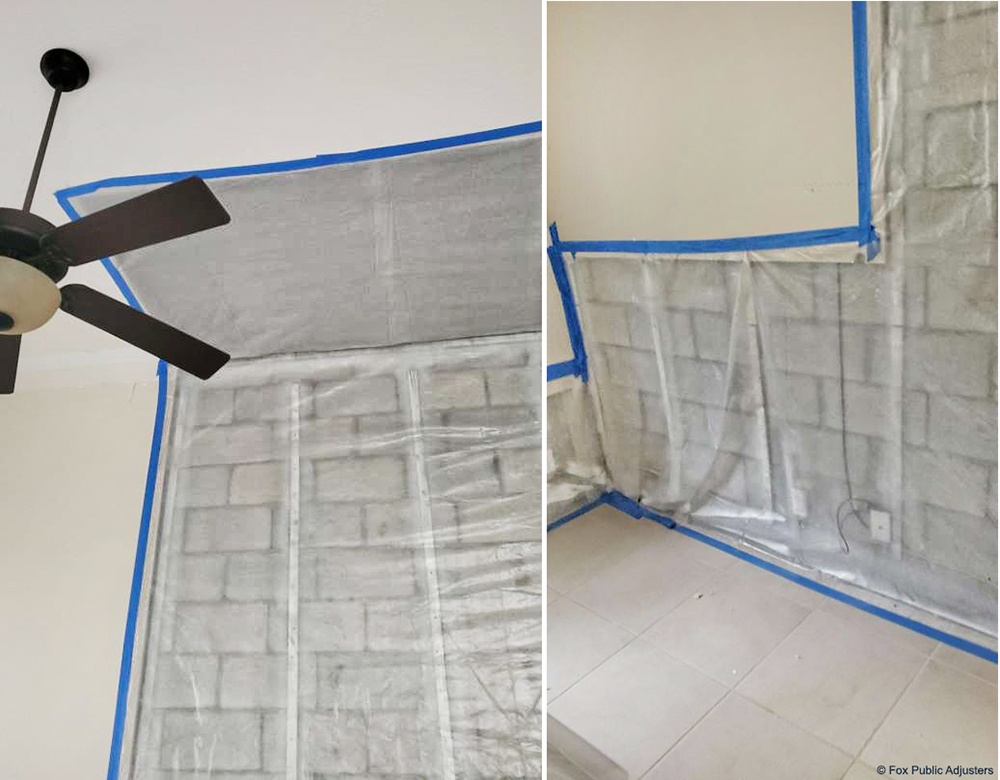 By covering the infected areas we can manage the mold spores capacity to travel throughout a home. Managing the airflow is one important aspect of mold removal.
Handling home damage insurance issues. 
When a homeowner becomes aware that they have a water damage problem, they often call their insurance agent, who sends out an insurance company adjuster.  This is a problem because the same person who is inspecting your home and determining the extent of the damage is from the same company that sold the homeowner the policy.   It's common knowledge that a company needs to make profits in order to survive.  This is understandable, however in the insurance industry, companies make huge profits,  check out this article to see earning from home insurance companies.
When you hire a public adjuster, you get an inspector and adjuster that works for you.  By hiring a public adjuster in your area, you will find that your adjuster has your best interest in mind.  A public adjuster received compensation based on the amount of the settlement you as a homeowner will receive.  This means that the public adjuster is going to be complete through with regards to the inspection process.  Where a company insurance inspector my opt to remove the visible mold, a public adjuster, will investigate behind the wall as well.  If there is mold growing in a hidden place, a public adjuster will find it, and submit a claim for complete removal.  If you look at the statistics, you will find that on the average homeowners receive a much larger settlement vs not hiring a public adjuster.
Area's we serve in South Florida. 
If you have been searching by typing public adjuster near me, then give us a call.  We are based in Boynton Beach, and we will be happy to inspect your home free of charge.  Call us at (561) 789-4369 if you live in any of the towns below:
West Palm Beach, Jupiter, Palm Beach Gardens, Lake Worth, Boynton Beach, Delray Beach, Boca Raton, Pompano Beach, Fort Lauderdale, Deerfield Beach, Stuart, Port St. Lucie, Greenacres, Riviera Beach, Wellington, Royal Palm Beach, Lantana and all of Palm Beach, Broward and Martin Counties.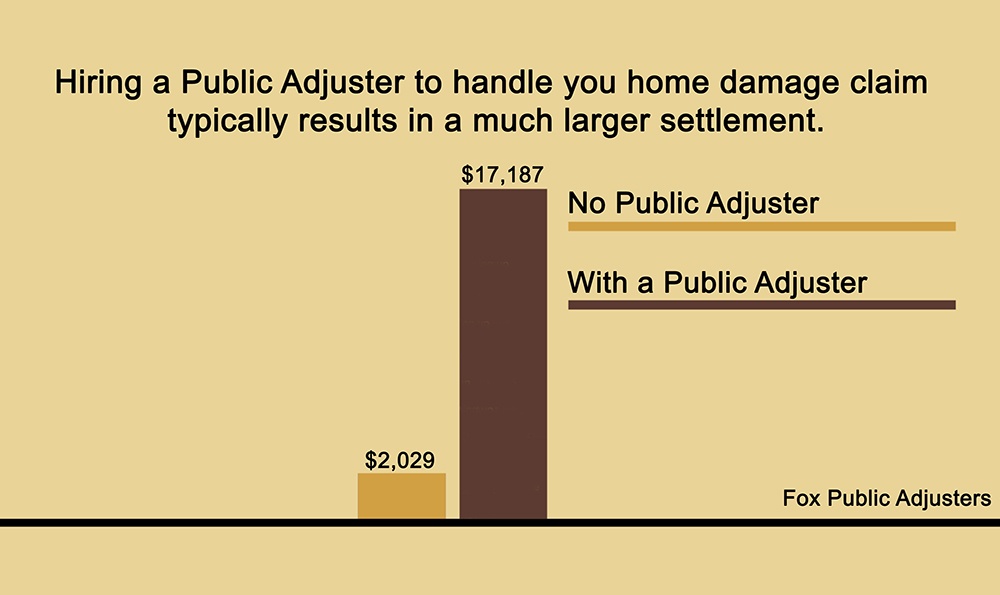 Making sure you Get what you are Owed from Your Insurance Policy
Was your home damage claim denied?  Did your insurance company give you're a lowball settlement?  Is your insurance company not responsive?  Is there a hidden clause in your home insurance policy that diminished your settlement?
If your answer to any of these questions is "YES" it's time to take back what you are owed.  By calling Fox Public Adjusters at (561) 789-4369 we can help you succeed at getting the settlement you are entitled to.
Let's be honest. When life is difficult, and things go wrong, people often think… Could I have done something better?   That's when those "If only.." thoughts come to mind.
When it comes to home damage, thoughts such as, "What could I have done to realize the full amount needed to repair my home, or "If only I knew I had this limitation in my homeowner's policy" are very common when faced with a home damage disaster.  The key to solving these what could I have none, start with, What if I called a Public Adjuster?   Below are a few things you should consider when considering your home.
Have you added an addition to your home since your policy was drafted?
When was the last time you updated your home insurance policy?  Let's say that you decided to spend more time socializing outdoors, While adding a screened porch is a fantastic idea,  It's very important to inform your insurance company of the addition.  How much did that porch cost? Was it $70,000, $90,000 with all of the bells and whistles, or even more?  As a public adjuster in South Florida we have seen many homeowners add extras to their home with out telling their insurance agent.  Often insurance claims are denied because the insurance company as not informed of this addition.  Unless you reported the structure to the insurer, your reimbursement will not include a check to re-build that porch.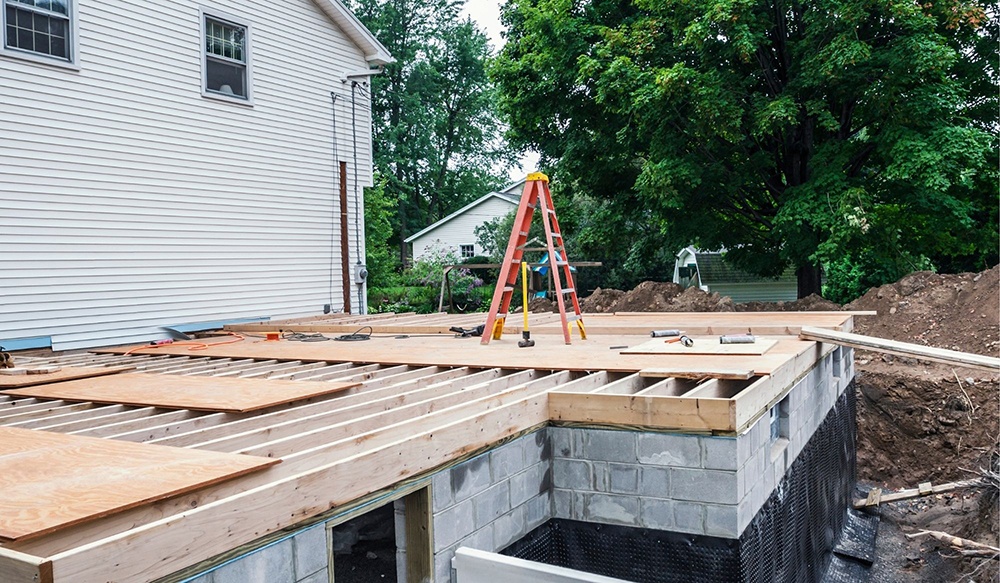 Are you covered for replacement value?
According to MarshMcLennan at Getting replacement value for your home damage., the majority of homes are underinsured. Even with replacement cost – what it would actually cost to rebuild your home is probably not the cost you have expected.   There is something known as "functional" replacement cost, which may allow you to rebuild your home, but not with comparable quality materials. Some insurers use "extended" replacement cost that will pay additional amounts in the event that replacement cost is inadequate.  This is particularly important right now; due to disruptions in the supply chain, it is very hard to get building materials of all types, and their costs have dramatically increased. It is bad enough that there could be a long wait before rebuilding but to not have those costs covered would be painful. So, at the very least, make sure you have some form of replacement cost coverage.
During hurricane season, we all worry about flooding. Your regular homeowner's insurance may not pay for flooding from a hurricane.
You may need to purchase a policy from the National Flood Insurance Program or somewhere else.  Don't wait until there is a hurricane; many of these policies have waiting periods. As www.floridadisaster.org points out (a division of FEMA), don't even think of using FEMA as an alternative. Although you can apply for an addition to your flood insurance claim, the average payout in Florida is only $5100.  Sadly, FEMA just implemented new risk assessment policies, which went into effect on October 1st. Even though the adjustments were expected to lower rates, some rates actually doubled. You will find a discussion of some of these issues here:
What Happens if You Try to Claim More than You Deserve?
Florida law is very strict about false and fraudulent insurance claims. The potential punishment depends on the dollar amount of the fraud, ranging from up to 5 years to 30 years in prison along with possible civil penalties. Ideally, you should have an inventory of all of your property along with photos (uploaded to a backup system) in the event your computers are damaged. That way, there won't be any questions as to the actual content of your home.
What should I do if I need to file a home insurance claim?
Chances are, you found this website by searching for public adjuster near me.  Looking for a public adjuster is a very smart decision.  Even if you try your best, hurricane-proof your home to the extent possible, maintain it well, and report all structures to your insurer, it does not protect your home against damage. When you need to file a claim, you should get help from a Public Adjuster.  A Public Adjuster, who must be licensed by the State of Florida, will act as your own insurance adjuster.  opposed to your insurance representative who only works for the insurer. The Adjuster can help you assess the extent of the damage and act as your intermediary, contacting the insurer on your behalf to convey the entire situation, and entering into negotiations on your behalf. For example, the insurer may believe that some of the damage is only superficial when you actually have mold. Or the insurer may try to force you to use their contractors by including a managed repair clause, some preferred insurance company contractors may refuse to give you a window of when the work will be done, and how it will be done. The State of Florida normally caps the fees of the Adjuster, and you will be able to focus on temporary quarters, if necessary and immediate needs.
There are so many good choices you can make to help your claim succeed in the event of damage. Remember to properly maintain your home, be truthful on all of your insurance documents and claims, make an inventory of all of your property, report all of your new additions to your insurer, and hurricane-proof your home to the extent possible. If damager occurs, don't panic. By contacting a Public Adjuster to help you through the overwhelming process.
If your home is located in any the following towns, West Palm Beach, Jupiter, Palm Beach Gardens, Lake Worth, Boynton Beach, Delray Beach, Boca Raton, Pompano Beach, Fort Lauderdale, Deerfield Beach, Stuart, Port St. Lucie, Greenacres, Riviera Beach, Wellington, Royal Palm Beach, Lantana and all of Palm Beach, Broward and Martin Counties.  Call us at Fox Public Adjusters (561) 789-4369.  We are the Public Adjuster near you!