Helpful information from a South Florida public adjuster.
When your home has suffered damage, or has been destroyed as a result of a hurricane, fire, flooding or a tornado, chances are you feel overburdened by the stress of the loss and the work of being asked to shop for the proper repair people.  The thought of the long process that lies ahead is daunting.  By hiring someone who's looking out for your best interests, you can be assured you will receive a settlement you deserve.  By working with a South Florida public adjuster you can rest assured that your insurance adjuster is on your side.  For the homeowner, the act of recovery and getting back to normal is emotional and personal.  For the average home insurance adjuster, this process is basically a business negotiation between the homeowner and the insurance company.  When you hire Todd from Fox Public Insurance Adjusters you can rest assured you will be well taken care of.  For Todd, it's more than just a business deal.  Todd's goal is to get results that you deserve while also giving you piece of mind.
There are many ways insurance companies get away with paying lower than expected home insurance settlements.  In this article, we will educate you –  "the homeowner"  as to some of the ways home and business insurance companies pay out less money on insurance claims.
1 – Often an insurance adjuster will drag out the settlement process.  As a way to dragging out the process, the adjuster will ask the homeowner to start collecting repair estimates.  This is extra unnecessary work for the homeowner and is just an attempt to drag out the process. By extending the process the homeowner, who just wants closure, will eventually get tired and frustrated. Just living with the stress of property damage is aggravating enough, and after enough time passes, the combination of stress and time, will begin to wear the homeowner down to the point in which they will settle for an amount which is less than desired.   In addition, the claims adjuster may also pressure the homeowner to settle too soon, resulting in a settlement that is less than needed to cover the cost of repairs.
2- I can't tell you how many times I have heard stories of insurance claims adjusters who are awful at communicating in a clear and easy way to understand.  Sometimes this lack of communicating ability is intentional, other times the adjuster just lacks the ability to communicate. Poor communication skills, especially when dealing with something as serious as home damage eventually leads to the homeowner becoming confused and frustrated resulting in bad decision making.  When you work with a South Florida public adjuster such as Fox Public Adjusters you will quickly find that Todd is easy to work with and is also a great communicator.
3- The total cost of even small everyday items can add up quickly.  I recently heard from a homeowner who realized after receiving her settlement that the amount she received didn't cover the cost of her personal items.  It may not seem like much, but when you start adding up the cost of makeup, shavers, brushes and other personal items the value will rise quickly. The average home may contain up to 2000 household items.  Can you remember all of your household items?  Just a bottle of fine perfume or men's cologne could be hundreds of dollars.
4- If your adjuster can't see the damage, you won't get paid for it. Often Todd finds additional home damage which was originally hidden from the insurance adjuster's view or the insurance company adjuster just didn't look too closely.   Once the repair work starts and the additional damage is revealed, it's up to the homeowner for fight with the insurance company to get the extra money.   By using specialized equipment such as a mold detector or infrared camera, Todd can detect issues and add those costs to your claim.  To learn more about Fox Public adjusters read this article.  Should I hire a South Florida public adjuster?
5– Sometimes home insurance policies contain exclusions.  If you are not familiar with these exclusions when your damage is assessed, you can be in for one heck of a surprise. It seems like some insurance adjusters employ a "deny first" strategy.  Once the adjuster verbally denies the claim, the homeowner is left thinking that they would be lucky to get any type of settlement.  It's not like you can go back and have your policy re-written after the insurance company's adjuster arrives.  By being unaware of these exclusions, you can easily find your homeowners claim denied.   Check out these book on how insurance companies deny claims,
Read the book Delay Deny Defend.   Why insurance companies do not want to pay claims.
Read the article. Every excuse in the book'.   You have a flooded home and they won't cover.
6- At a certain point, an insurance claims adjuster could ask you to sign a release of liability form, Once you sign this, you cannot go back and ask for more money. If you find more problems resulting from the original damage, then you would be stuck with your agreed settlement.  It's important not to be pressured into signing this because it's common for additional damage to appear months after the settlement.  For example, a flood in your kitchen could be fixed and made to look like new by a restoration company.  However, over time you can find that your cabinets have now warped as a result of the initial water damage.  In addition to warped cabinets, a mold situation could develop. Once you are faced with this set of circumstances the repair costs will skyrocket.  If you do agree to sign a release of liability form, you need to make sure the amount you receive is more than enough to cover and additional damage that may be revealed at a later date.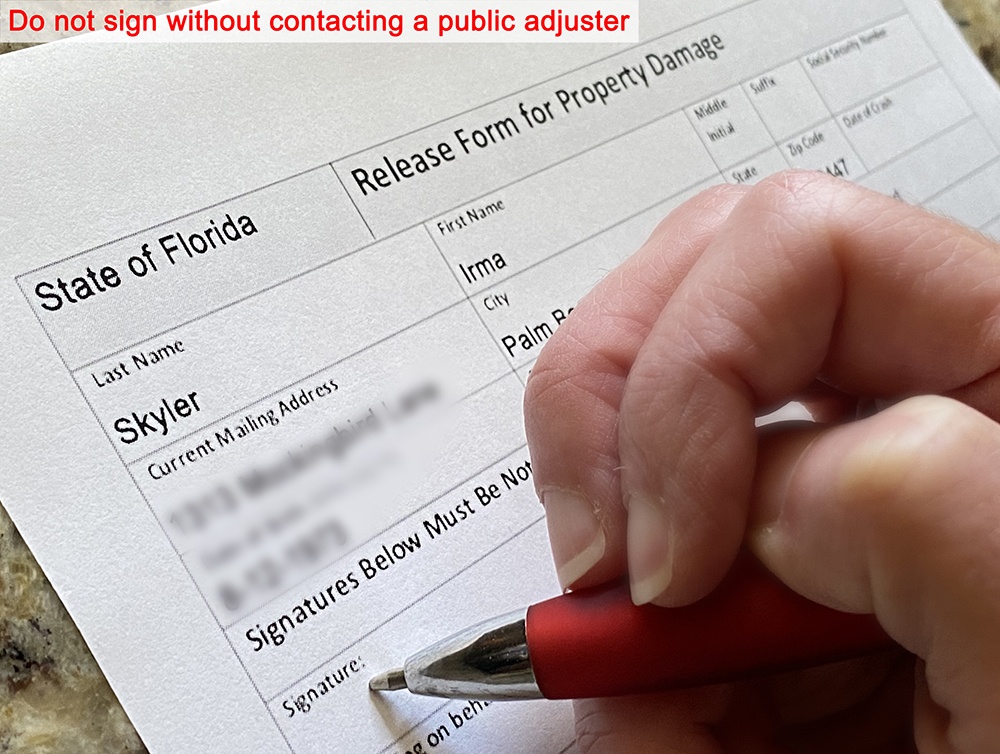 7- Often insurance companies will routinely send an initial lowball offer.  It's a given that insurance companies need to make a profit.  The larger the profit – the better. The theory is to send the first time lowball offer with the hope that an unknowledgeable homeowner will be happy to grab the settlement money and put the situation behind them.  When homeowners accept the first lowball offer, it helps the insurance company improve their bottom line. Insurance companies that sends a lowball offer, often has another second more substantial offer waiting. Insurance companies are some of the most profitable corporations in the world.
8- By undercutting the cost of the damage, an insurance company will lower the amount of your settlement.  Statistically speaking, homeowners who employ the services of a public adjuster receive a 700% higher settlement
Home damage can occur as a result of many different unexpected occurrences including but not limited to, Smoke and Fire Damage, Vandalism Damage, Lightning Damage, Wind & Hurricane Damage, Tornado Damage, Mold Damage, Sinkhole Damage, Broken Pipes and a wide range of other unforeseen circumstances.  When these situations happen, you need someone who is looking out for your best interests, not the insurance company's bottom line. By consulting with a South Florida public adjuster you will have to confront that your insurance adjuster is on your side.  For a professional assessment, call Todd at (561) 789-4369.