If you live in Palm Beach County, Broward County or Martin County, and your home insurance claim was denied, don't think it's game over.  Fight Back with a Public Adjuster. 
In our business as a public insurance adjuster, many of the calls we receive are the result of a denied home damage claim.  Here in South Florida it seems as if insurance companies love to deny insurance claims.  Over the past few seasons, we have handled denied claims in all these South Florida towns: Lake Worth, Boynton Beach, Delray Beach, Boca Raton, Deerfield Beach, Ft Lauderdale, West Palm Beach, Greenacres, Palm Springs, Palm Beach, North Palm Beach, Riviera Beach, Wellington, Royal Palm Beach, Plantation, Miramar, Hypoluxo, Lantana, Ocean Ridge, Hallandale Beach.  When an insurance claim is denied often the homeowner is shocked.  It seems so cut and dry, your home suffers water damage as a result of roof damage, broken plumbing or a broken appliance.  Here in South Florida insurance companies have almost unlimited reasons to deny claims.
You may assume that you have no recourse when your home insurance claim is denied.  However, this is simply not the case.  By hiring a public adjuster, especially Fox Public Adjusters, you can fight back.
So many decisions. Whenever something happens to your house, there is that moment of panic where your stomach clenches, the expletives escape, and yet you are still back to where you started. When it is a relatively small claim the decision may be easy. The more extensive the damage, the clearer your actions become. The decision to file a claim through your insurance agent or to file through a public adjuster is a question that gets asked often.  According to Investopedia, just filing a claim can result in rate hikes of 20% to 40%; not only that, but your insurance may decide not to renew your policy later because you filed a claim, leaving you ironically "high and dry."  Is your insurance claim worth filing? Surely you don't want your rates hiked, you also don't want your policy dropped.  Read our article which explains, why your insurance company may cancel your policy here: How to avoid a canceled insurance policy.  Before filing that home damage claim do yourself a favor.  Call us at Fox Public Adjusters and let us save you time, stress and aggravation.  Our number is (561) 789-4369
What are Some Reasons Your Home Insurance Claim Could Be Denied?
According to Select Quote, there are many reasons your claim may be denied. Some will be harder or impossible to fight. For example, there are time limits to file your claim. Check your policy to make sure that your procrastination doesn't cut off your right to file. Of course, it is possible your policy doesn't cover your type of damage at all. There may be exclusions for earthquakes, floods, water/sewage backup, and more. Most South Florida homeowners are too busy to read their insurance policy.  Honestly, how can you blame Them, Often, they are well over 100 pages. However, if you won't read it, ask your questions to your agent in writing, to make sure you understand what is and what isn't covered in writing; the best time is before ANYTHING GOES WRONG! Then, see what type of supplemental insurance you may need. In South Florida, you will certainly need to ask about flooding and hurricanes.  As a South Florida based public adjuster, its our job to understand the insurance business, this includes understanding home insurance policies.  As a former insurance agent, Todd at Fox Public Adjusters knows what is included in insurance policies.  He is also aware of all the reasons why a claim could be denied.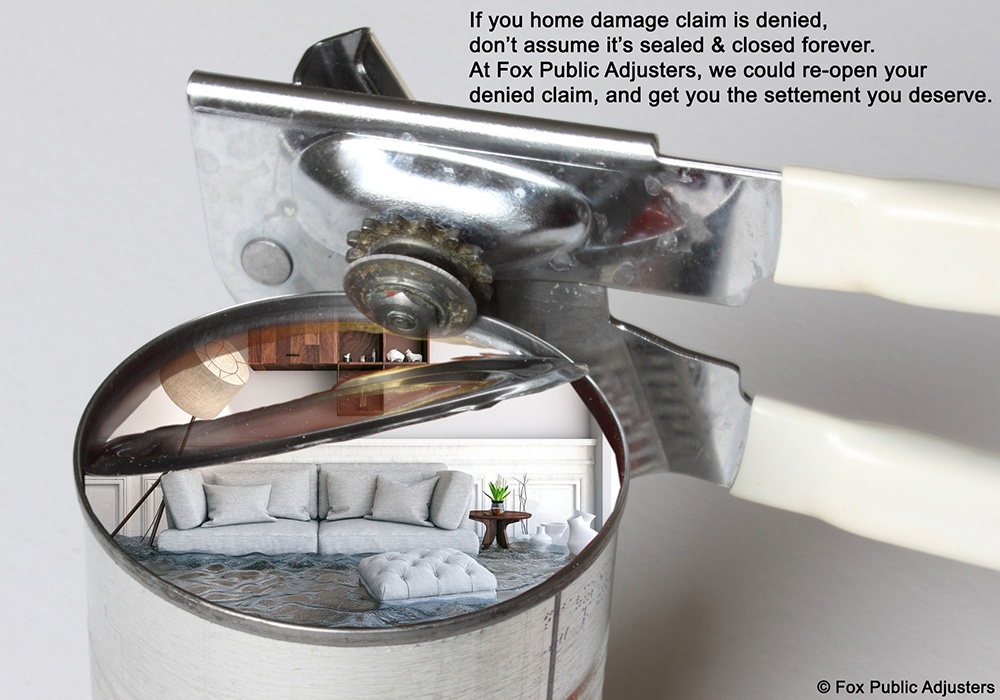 Can My Claim Be Denied If I Don't Perform Regular Maintenance on My Home?
Sadly, there are so many things we learn the hard way. Just because we weren't perfect homeowners, we are now holding a denied claim in our hands. Why? Ignoring maintenance will not help your case. Let's take something simple. What if you see stains on the ceiling of your top floor? Do you ever look in your attic and see if anything is wet? Even if you are unaware of shingles flying off during the last major storm, you should have a licenced roofer check your roof after each storm. Then, you should have a file of all your paperwork showing how conscientious you are. What about your gutters? When were they cleaned out? If over a year ago, or, in some cases, even a shorter span, you need to clean them out before the next storm hits. What about trees? Did you buy your home because you loved those large trees in the backyard? Are there dead branches on those trees? Are the trees' roots too close to the house, and the whole tree has to go? Have a licensed tree expert come and inspect your property. Put that record in your folder.
Will My Insurance Company Deny a Valid Claim?
Okay. This is hard to believe, but the agent who sells you your policy is not the one who decides your claim. It is the colossal organization which is staffed by lawyers and other corporate types and probably has shareholders to answer to. So, if somewhere in that 100-page policy there is language offering a "no" – even if it doesn't really match your situation – your claim may be denied. For example, your water heater which is only 6 months old has a major fault and "explodes." Your insurance company says that you haven't maintained it properly. That may always be the insurer's first response to any water heater issue. Because you have limited time to file an appeal, make sure you always file that appeal in a timely manner. Then, you have a few choices. You can argue yourself. You can hire a lawyer. Note that the National Association of Insurance Commissioners found Florida had just over 8% nationwide of homeowners insurance claims in the year 2019; yet Florida lawyers filed over 76% of all the homeowners' suits against insurance companies in the country! So, consult multiple lawyers to see if your case is a sound one. Or you can hire a Public Adjuster. A Public Adjuster, who must be licensed by the State of Florida, will be your own agent. He/she will assess the damage and act as your intermediary. In fact, if you have major damage, the Public Adjuster may be the one you contact right away to make sure that your initial claim has a better chance of succeeding. Fees of the Adjuster are normally capped by the State of Florida, and your will have someone working for you.
Now is the time, right on the cusp of hurricane season, to find out more about your coverage (in writing). Line up all your reputable contractors and have them inspect your roof, gutters, appliances, water heater, and more prior to the next storms. Keep a file showing the who, what, and when of all inspections. Make sure that all your contractors are licensed and insured. If you follow these steps, and you are faced with a denied claim, you will be ready to do battle!