As Hurricane Isaias hits South Florida homeowner's prepare their homes for potential wind, flood, and hurricane damage.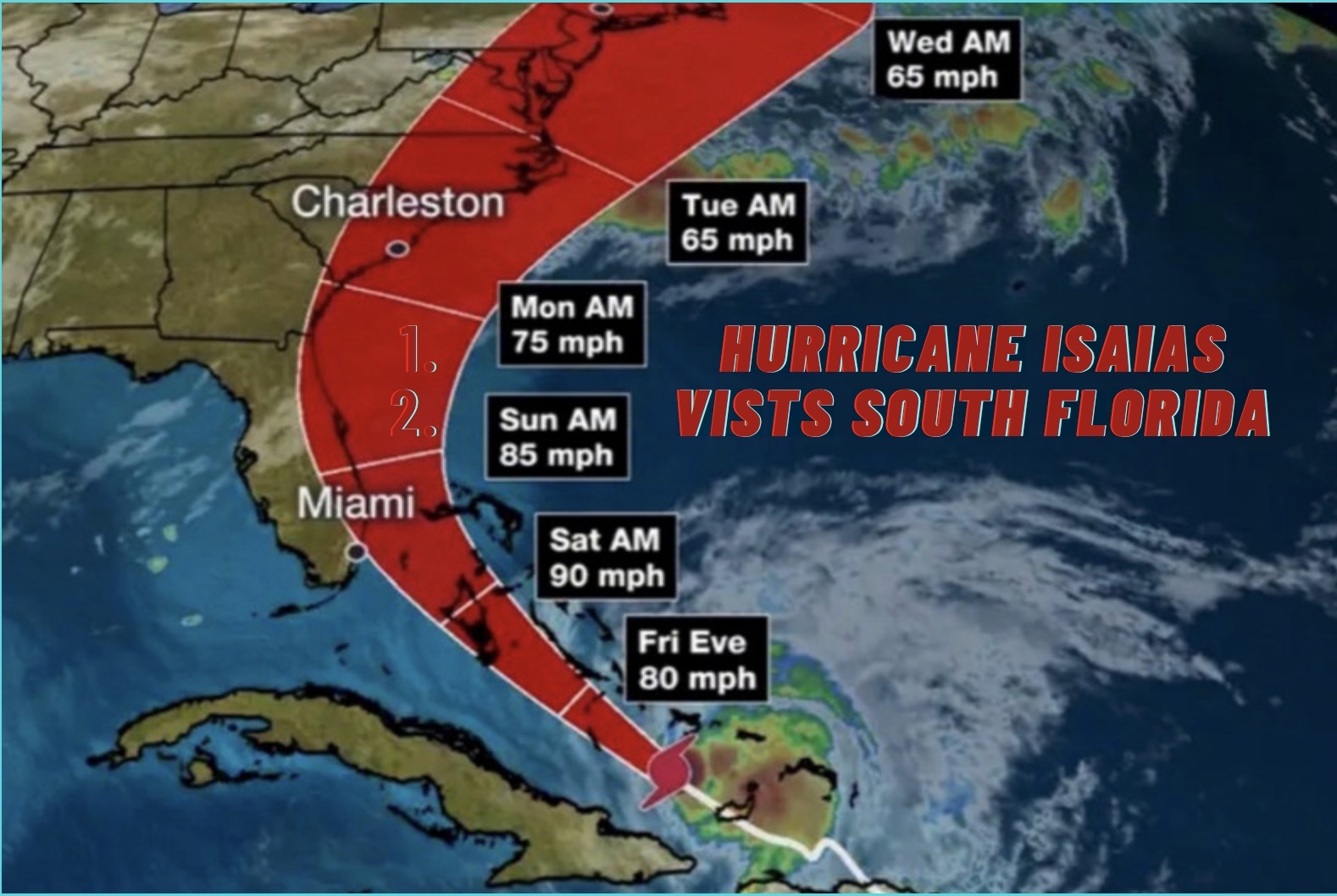 If you are a victim of Hurricane Isaias home damage we are here to help.  As public insurance property adjusters we are experts in handling insurance claims that insurance companies either under pay or deny.  When faced with property damage, such as a water leak from a damaged roof or flood damage from a cracked window molding we are here to help.  Many insurance companies are happy to send their preferred service contractors to your home to do a quick dry job, if your home is flooded. If you are located in West Palm Beach, Jupiter, Palm Beach Gardens, Lake Worth, Boynton Beach, Delray Beach, Boca Raton, Pompano Beach, Fort Lauderdale, Deerfield Beach, Stuart, or Port St. Lucie call us.  Our service includes working with your insurance company to make sure you home is completely dry and that a mold situation does not occur.  For more information on how to protect you home from Hurricane Isaias home damage read our article here: Protecting your home from hurricane damage.
Hurricanes such as Isaias can cause a wide range of damage.  Many of our past clients have experienced property damage such as.
Home Structural damage from high winds:   High winds often blow down large trees power poles power lines and roof parts such as tiles and sections of roofing.  This flying debris has the potential to land on your home causing serious structural damage.  High winds can also bring down large sections of your  walls, patio enclosure and other structures such as a storage shed.
 Windows broken by flying debris:  Broken windows are a common result of high winds.  A broken window will allow strong winds to rip through your home.  Home interiors and walls make from drywall can become soaked allowing mold to grow and causing structural damage.
Front doors and Garage doors:  Home doors are very susceptible to wind damage because they can blow off the frame.  Some newer homes have re-enforced garage and front doors which adds an extra layer of protection in the event of a hurricane.  Once a garage door breaks down, your cars and garage contents will suffer major damage.  If you have a glass front door make sure the glass is either covered by hurricane shutters or is hurricane proof.  We have seen front doors broken in as a result of broken hinges. If this happens to a front door much of your home contents can be destroyed,  In addition the entire home structure can be compromised.
Mold and Moisture damage:  Hurricane force winds can push water around leaving your home flooded, If you have a swimming pool in the backyard your pool can overflow and the extra water can surge into your home.  When this happens the growth of mold and mildew very common.  Moisture only needs 24 to 48 hours to start growing mold fungus.  Often a bad or wind damaged window seal from hurricane can cause water damage.
As a storm and hurricane damage expert we are extremely experienced in handling a wide range of home and property damage situations.  One phone call to Fox Public Insurance adjusters at (561) 789-4369 will put you in touch with the best hurricane damage expert.  Feel free to read through our blog articles and learn how to prepare your home for any hurricane related issues.  Our happy clients are a testament to our professionalism and our ability to handle insurance claims, especially difficult home damage claims in which insurance companies either deny a homeowner claim or under pay a claim.  Read our client reviews here: Our happy homeowners.
If you would live in South Florida you can also visit CodeRED for more valuable information.
Hurricane Isaias home damage