Protecting you home from South Florida hurricane damage is a process that every homeowner must face. As the summer months approach many Southern Florida residents start thinking about what the future hurricane season will bring.  To be honest, no one really knows.  However, it's always important to be prepared for the worst.
As South Florida homeowners head into the summer months, many start to wonder, what will this hurricane season bring?  Will this be uneventful?  Will we have a near miss?  What if my town suffers a direct hit?  How can I avoid South Florida hurricane damage? For many homeowners, the thought of putting up and taking down hurricane shutters is something they would rather not think about.  Many South Florida homeowners take a vacation over the summer.  Can you blame them; it's hot and humid in South Florida making a great reason to get out of town.  When going out of town during hurricane season it's always a good idea to have a hurricane plan in place so that a friend or neighbor can prepare your home while you are away.
At Fox Public Adjusters, we have seen more than our share of South Florida hurricane damaged homes.  Some of these homes have roof damage; others have damage caused by falling trees.  Due to the massive amount of rain as a result of a hurricane or storm flooding is common. When heavy wind pushes sitting floodwater – the result is storm surge.   Storm surge can flood your home and weaken the basic structure causing significant damage.  One of the most common effects of a hurricane is window damage.  Once a window is broken, the pressure caused by the air can actually blow off your roof.  This is why it's a good idea to close all the doors to rooms with windows.  If a window breaks and the door to the room is closed the air pressure will be confined to that one room.
As public insurance adjusters, it's our job to help homeowners get the best possible settlement whenever a home suffers damage as a result of a hurricane.  The learn more about our services read this article. Hiring a South Florida public adjusterIt's a horrible experience for the homeowner who is left with the damaged home. Worse yet, the stress of dealing with the insurance company's adjuster only adds more anxiety to the situation.  When faced with a damaged home, hiring a public insurance adjuster is the smartest move you could make.  If you find yourself in this situation, call us at Fox Public Adjusters (561) 789-4369.  Of course, doing your best to prevent South Florida hurricane damage should be any homeowner's first priority.  In this article, we will arm you with the best advise possible when preparing for a hurricane.
Protect your windows first
Since the windows are the weakest part of your home, they need the most attention. After all they are glass and will break easily if they are hit with anything traveling fast enough.  In a hurricane, anything can become a projectile.  Once a home window is broken, the contents of your home could get sucked outside as a result of the low-pressure situation. The force of the wind could be enough to destroy your entire home.   Because the windows are so vulnerable, protecting them should be your first line of defense.  By putting up hurricane shutters over the windows you can feel secure in the knowledge that if anything hits a window your home will still be protected.  There are several different options for hurricane shutters.  Most new homes come equipped with panel bolt on hurricane shutters.  These shutters must be installed by being bolted onto the windows of your home.  Obviously the work involved in bolting in hurricane shutters is substantial and if the shutters are being installed on a second floor then a ladder is required for installation.
Another alternative to the panels are the accordion shutters.  They are more expensive when you consider the price of the shutters and installation but to open them and close them requires simply sliding them open and closed.  Accordion shutters are very popular and because the act of opening and closing them is so easy almost anyone can do it.  If you are on vacation, closing the shutters could be as easy as a call to a neighbor.  If you are on vacation and you have bolt on panel shutters, you can pay big bucks to get them installed if you can even find someone to do the job.  One of the best and most expensive options is to have hurricane glass installed in your home.  This special glass is designed not to break if hit by flying debris.  When hit by flying debris, regular window glass will break – allowing hurricane force winds into your home.  However, hurricane glass will crack but not break, protecting your home from the elements of a hurricane.
It's easy to protect your garage door
Another very vulnerable part of your home is your garage door.  Because most garage doors are not reinforced, the strong winds from a South Florida hurricane could pry your garage door open. Did you know that most garage doors are held in place only by the tracks?  Once this happens the positive push and negative pull of the wind can cause your roof to fly off.  By adding a garage door brace, you can be assured that your garage door will remain intact during a hurricane. For more valuable information on protecting your garage door during a South Florida hurricane, there is an excellent article written by Daniel Vasquez at the Sun Sentinel.  Click here for the article:  Stormproof your garage door and you could save your home.
Daniel wrote another article on small items and apps that are handy when preparing for a hurricane:   Apps and gadgets for hurricane season.
Check for home roof straps
One of the main reasons why a homeowner should secure both the home windows and garage door, is to prevent damage to the roof.  In a hurricane, once the roof is damaged or flies off, the entire home becomes a total loss.  Because keeping the roof intact is critical, installing hurricane roof straps is the best way to ensure your roof is bolted to your house.   Most new South Florida homes have hurricane strapped roofs because they are a building code requirement.  However some older homes may not. Here is a link to a video on how to check if your home has hurricane straps.  ADD LINK If your home does not have roof straps you can get them installed here. Find this.
Trim your trees and check for broken roof tiles
During a hurricane, wind speeds can reach well over 150 miles per hour.  When this happens, anything outdoors can turn into a high-speed missile.  One of the most common sources of South Florida hurricane home damage comes from broken tree limbs.  From our experience as a South Florida public insurance adjuster, we can tell you that claims from flying tree limbs are extremely common.   If your tree gets blown over or your tree limbs get blown into a neighbor's home, the damage caused to your neighbor is actually the responsibility of the neighbor.  This is because the damage was created by an act of god. HOWEVER, if your tree was dying, diseased or unstable, then you as the tree owner could be responsible.  The best advise we could give is to trim your trees so that any tree limbs that could become unstable won't break off and become dangerous projectiles.   Another important point to keep in mind is that you should make sure your tree debris removal service would pick up the trash before the hurricane hits.  You don't want a hurricane to hit while all the cuttings are still sitting waiting for removal.
In addition to maintaining your trees, you should remove any loose outdoor items. Items such as chairs, outdoor tables and/or decorative items should all be moved indoors. Just like broken tree limbs, any loose items could reach record breaking speeds once hurricane force wind picks up.  A quick check of your roof tiles is also a good idea. We had a neighbor who suffered some mild roof damage as a result of Hurricane Matthew.  They didn't initiate the roof repair until Hurricane Irma was on the way.  Our neighbors went a bit crazy when it became clear that the resident with the damaged roof tiles had no intention of calling a roofer.  Finally the homeowners association stepped in and forced the resident to make the repairs before Irma hit. If his roof tiles caused damage to a neighbors home or even a car (which shouldn't be left outdoors) the responsibility would rest with the homeowner who knew the roof tiles were broken before Irma hit.
Keep floodwater away from your home
Fighting with insurance adjusters over flood damage is very common in our business. Flood damage from a South Florida hurricane could result in all kinds of other home-related issues.  Once the flood is gone and the water is removed, mold could become another issue.  Even if you as a homeowner are able to clear out the water and dry out your home, it's still a good idea to have your home inspected for mold.  Every location in South Florida has a FEMA flood zone rating. You should be familiar with your flood zone so that you can take an active measures depending on your flood zone before a South Florida hurricane damages your home. I have found that there are several different ways that flood zones are designated; these zones are labeled differently depending on who is doing the labeling.  Living in South Florida one thing is for sure – flooding could impact the entire region.  There are some measures a homeowner can take when it comes to protecting your home from hurricane related floods. One action is to make sure the ground around your home is graded away from your home.  This should be done when your house is built or when you purchase a new home.  It's also a good idea to have a battery-powered sump pump in your home.  If during a hurricane you have water entering your home, a sump pump could save your home.  If you live in an area with lots of tall trees, having you gutters checked and cleaned is easy and worth you time.  Lastly, if a hurricane is in the near future and you know you live in a flood zone, use sandbags to build a barrier around your home. Although use of sandbags is no guarantee of keeping water away, it could mean the difference between flooding and keeping the water out of your home.
Other ways to prepare for a hurricane hitting South Florida
Once a hurricane hits, you may be without power for several days or even weeks.  By preparing a storm kit, you will have the items you need during the time you and your family are without power.  Your hurricane kit should include: a large trap, some rope, flashlights, extra batteries, plastic garbage bags, blankets, some cash, a car power adapter for your cell phone, a non-electric can opener. You should also stock up on some extra household items, including bottled water and some tools you many need.
Many people in South Florida own generators capable of powering appliances such as a refrigerator or a small cooktop.  It's a good idea to start up your generator before hurricane season to make sure it will be in working condition when and if you should need it.  Also, never run your generator indoors.  The exhaust from a generator is invisible and can fill up a room quickly.  Many accidents have happened as a result of homeowners not operating their generator in a safe manner.
Know how to shut off the gas and water supply to your home.  During a hurricane, anything could happen to your home as a result of wind and rain. If you smell gas, you should know how to turn it off. The same applies to water –  if a pipe breaks, you should be able to shut of the main water valve to prevent flooding.
Install a power surge protector
Surge protectors are available in most hardware stores and many other retailers.  These surge protectors work by preventing a surge of high power that will enter through your electrical outlet and damage the item that is plugged into the outlet.  You can add a surge protector to every home outlet or you can have your power company install a home surge protector at the point where your main power connect connects to your home.  If a power line near your home gets struck by lightning, the surge protector will stop the power surge before the bolt of high power can damage your home electronics.  One good jolt of electricity could destroy your air conditioning unit, wreck a refrigerator, or damage other expensive home electronics.
Have a battery operated water pump handy. During a flood emergency, having a battery operated water pump could mean the difference between no issues and serious water and mold damage.  A battery powered water pump could save you home from South Florida hurricane damage if for some reason water enters your from through a broken storm barrier.  There is a wide range of water pumps that are inexpensive and can be easily stored.  If during a hurricane your home starts to take in floodwater, one of these pumps can be a real home saver.
BELOW: During hurricane Matthew the home suffered serious home damage from this fallen tree.  When serious home damage like this happens it's important to be secure with the knowledge that you are insured.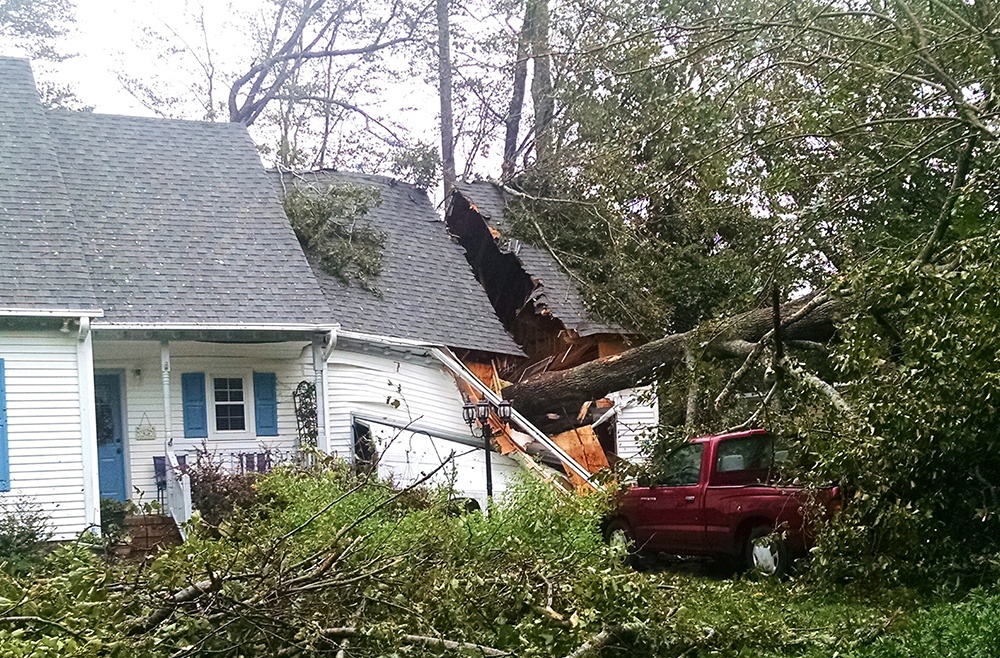 Take inventory
It's unfortunate that as a South Florida public insurance adjuster we find ourselves asking homeowners for a record of everything they owned.  Making a record of your belongings is much more difficult when everything is destroyed or covered in house debris.  The time to make a record of the contents of your home is well before you need it.  After the shock of South Florida hurricane or tornado damage, no homeowner is going to want to start compiling a record of personal items.  This should be done early and it should be done anyway.  Home damage comes in many different forms  – not just from a hurricane.  As a public adjuster, we have worked with fire related and theft claims as well.  Having a record of personal items is always a good idea.  At the very least, take a video of your home contents. Use your camera phone or a video camera and move through your home room by room and make a video record of everything.
I hope you have found this article on protecting you home from being damaged if a hurricane hits South Florida.  If you need any help preparing for a hurricane or if your home has suffered damage from a South Florida hurricane give us a call at (561) 789-4369