What should a homeowner do, after the storm hits South Florida?
As a Palm Beach County Public Adjuster we see all types of home damage from a wide range of hurricane related issues.  When you are faced with property damage from a flood, wind, lightning or heavy rain, calling a public insurance adjuster is your best move.  Read below to learn why.
Once a large storm or hurricane leaves the area, homeowners feel relieved that they survived another one.  The next thing homeowners want to do is the check for storm damage.  This is a time to be cautious. Did you know that 40 percent of injuries happen after the storm or hurricane has passed? When inspecting your home after a hurricane, safety should be your first priority.
The first thing you could check for is the smell of gas.  If you suspect a gas leak, turn off the main gas line and open the window.  Then call the gas company.   If your home suffered any type of structural damage you want to watch for nails or pieces of glass that can cut or injure you.
One of your priorities after a hurricane passes, is to take down your hurricane shutters.  If you have slider hurricane shutters then opening your shutters is relatively easy.  If you have bolt-on shutters, taking them down is a more difficult task.  It's easy to assume that taking storm shutters down is easier than putting them up.  Not true. When taking down metal hurricane shutters, extreme care must be taken.  Always wear heavy gloves because the sides of the shutters are sharp, one heavy wind can blow a shutter panel in the wrong direction and cause serious injury.  When standing on a ladder, make sure the ladder is on a solid flat surface.  You can read more about ladder safety here:
Hurricane shutters are great for keeping flying debris from breaking a window and destroying your home.  However, caution should be taken when putting up and taking down hurricane shutters.
Taking down hurricane shutters is a task most people would rather avoid, however this should be done as soon as possible following a storm.  There are lots of stories in which fires have broken out and due to the hurricane shutters. The fire department then couldn't get into the house because of the hurricane shutters.  Think I'm kidding, Click Here:   And Here.    And Here for more
It's important to document any damage as soon and as thoroughly as possible.  You should take pictures and video of any home damage that has occurred.  This also includes anything that could also become a potential problem.  If there is water damage, take pictures of the sitting water. If there is water dripping or any water in motion, video is a good way to document that movement.  In addition, video is a great way to show to an insurance company the flow pattern of any liquid.  Often homeowner call a Palm Beach County Public Adjuster because their insurance company has denied their claim.  Not having pictures or video could be a reason why a claim was denied.
This is the time when homeowners should take a good hard look at their home for damage they may have overlooked.  Often home damage doesn't appear until many days after the storm is long gone.  A cracked wall or a broken roof may not show signs of storm damage until the homeowner sees the water stain on the ceiling, or smells something musty in a bedroom.  Tracking down the source of the damage could be tricky business.  For most homeowners, a call to the insurance company is the first phone call made.  Often the insurance company will ask the homeowner to call their preferred home damage service provider.
For many homeowners, this arrangement seems to make perfect sense.  This mutual relationship between the service provider and the insurance company works out perfectly for both parties.  The service provider knows that they will receive a steady flow of work, and the insurance company gets to put a cap on the amount the home repairs will cost.  It's a great working relationship, except for the fact that the homeowner is the odd man out.  We have received many calls from homeowners looking for a Public Adjuster in Palm Beach County because after the service provides left the resident felt that the restoration service was not complete.
After a hurricane or big storm clears out, a trail of home damage is left.  This means that the cost of home repair can rise as a result of building supply shortages.  Also repair people are much busier and for many insurance adjusters the mindset is to get as many homes evaluated as quickly as possible, the result is insurance companies' preferred service providers are under pressure to get the job done quickly, while being cost effective.  If a home has water damage, the quickest solution is to dry the obvious moisture, have the homeowner sign off on the service call and move onto the next.  This type of "get it done quickly" attitude is not in the homeowners best interest.
In a non-storm related incident, our agent in Indiana recently inspected a home in which a washing machine hose broke.  The water from the broken hose caused flood damage to the home's first floor.  There are many reasons as to why a washing machine could leak.  For more information on washing machine leaks check out this article.   Why is my washing machine leaking?
In this case of home flood damage, the insurance company sent their preferred water damage restoration provider who placed some fans on the first floor in an attempt to dry the home.  While this removed some moisture, it didn't provide a complete solution.  Several days after the preferred water damage restoration company finished the homeowner call us because they still had a musty smell in the home.  When we arrived, we found water sitting under the carpet and behind to floor boards.  You can read about this situation here.    Flood turned into mold.
Water turns into mold.  When you have water damage, it's critical to get the water and moisture removed immediately.  It only take 24-48 hours for moisture to grow into mold.  Once a homeowner is on the path to mold growth, it becomes much more difficult to remediate the mold.  Mold is a live organism that will fight to grow.  This means that getting rid of mold is no easy task.  For more information in mold removal in Palm Beach County read here:   Mold Removal in Palm Beach County
Preferred service vendors are just one of the tricks insurance companies use to save themselves money.  Remember this –  both residential and commercial property owners have the lawful right to hire any company they choose to perform insurance claim contracting services.  Just because your insurance company asks you to use their vendor doesn't mean you must. To clarify this issue read:   Why do insurance companies have preferred vendors?
One mistake homeowners make after a hurricane is to throw out damaged items such as furniture and appliances.  Keeping these items until after you receive a settlement is in your best interest.  Insurance agents are always looking for signs of a dishonest homeowner.  If you tell your insurance adjuster that your 70-inch brand new flat screen TV went out in the trash, it won't go over too well.
Another mistake homeowners make is to wait too long to file a claim.  After a hurricane, homeowners are busy getting their lives back in order.  Between the clean up and all the other pressing issues, calling an insurance agent is not something many homeowners want to deal with.  This is a really good reason to hire a Palm Beach County Public Insurance Adjuster.
One call to Todd at Fox Public Insurance adjusters and your South Florida home damage situation will become much easier to handle.  First, as a Public Adjuster in Palm Beach County, Todd will work for you, not the insurance company.  Todd will visit your home, evaluate your home damage and work with your insurance company to make sure you receive a settlement that covers the entire cost of your home repairs.  Because he is not a preferred insurance company service provider, he doesn't have an insurance company imposed cap on the amount of damage he submits.
In the case of our previous homeowner, the insurance company's preferred service provider had a cap on the amount of service they could provide.  This is why they didn't remove the floorboards or carpet.  The homeowners insurance company figured they would save money by skimping on the repair work.  However, once the homeowner called Fox Public Insurance Adjusters we found all the additional water and mold damage.  By the way, if you feel that your insurance company's service provider didn't do a complete job, we could still re-open a new claim and follow through until your home is repaired properly.
Given the fact that the objective of most insurance companies is to make money, you should call us first, before the insurance company manipulates you into an unfair insurance settlement.  In addition to working as a Boca Raton Public Adjuster we also service the entire South Florida area.  If you live in West Palm Beach, Jupiter, Palm Beach Gardens, Lake Worth, Boynton Beach, Delray Beach, Pompano Beach, Fort Lauderdale, Deerfield Beach, Stuart or Port St. Lucie call us for all your hurricane damage help.
Updated on October 2020:
Check out this video from a Palm Beach County residential neighborhood!  After days and days of rainstorms the streets were flooded, peoples back yards were flooded, and many homeowners had water entering their homes.  Flood water and rain water entered peoples homes from around front doors, sliding back doors, pools over spilled as well.  May homeowners had water enter their home through damaged foundations, cracked in exterior walls and through damaged and cracked roofs.
At times the rain from the storms resulted in rainwater blowing in all different directions. Rain entered some homes through vents, which led to soaked insulation.  Because the insulation is located in a dark, damp, hot attic, mold has now become an issue.   Even though the neighborhood kids love playing in the flooded streets, I can't say all the Palm Beach County homeowners are as happy.   Needless to say, as a Palm Beach County Public Adjuster, we have been very busy.   Check out this picture, Todd took while on a home roof inspection.
BELOW:  This recent storm came with some very high winds.  The winds were so strong that many trees lost branches.  This home suffered serious roof damage when some of the branches smashed through the roof leaving large holds.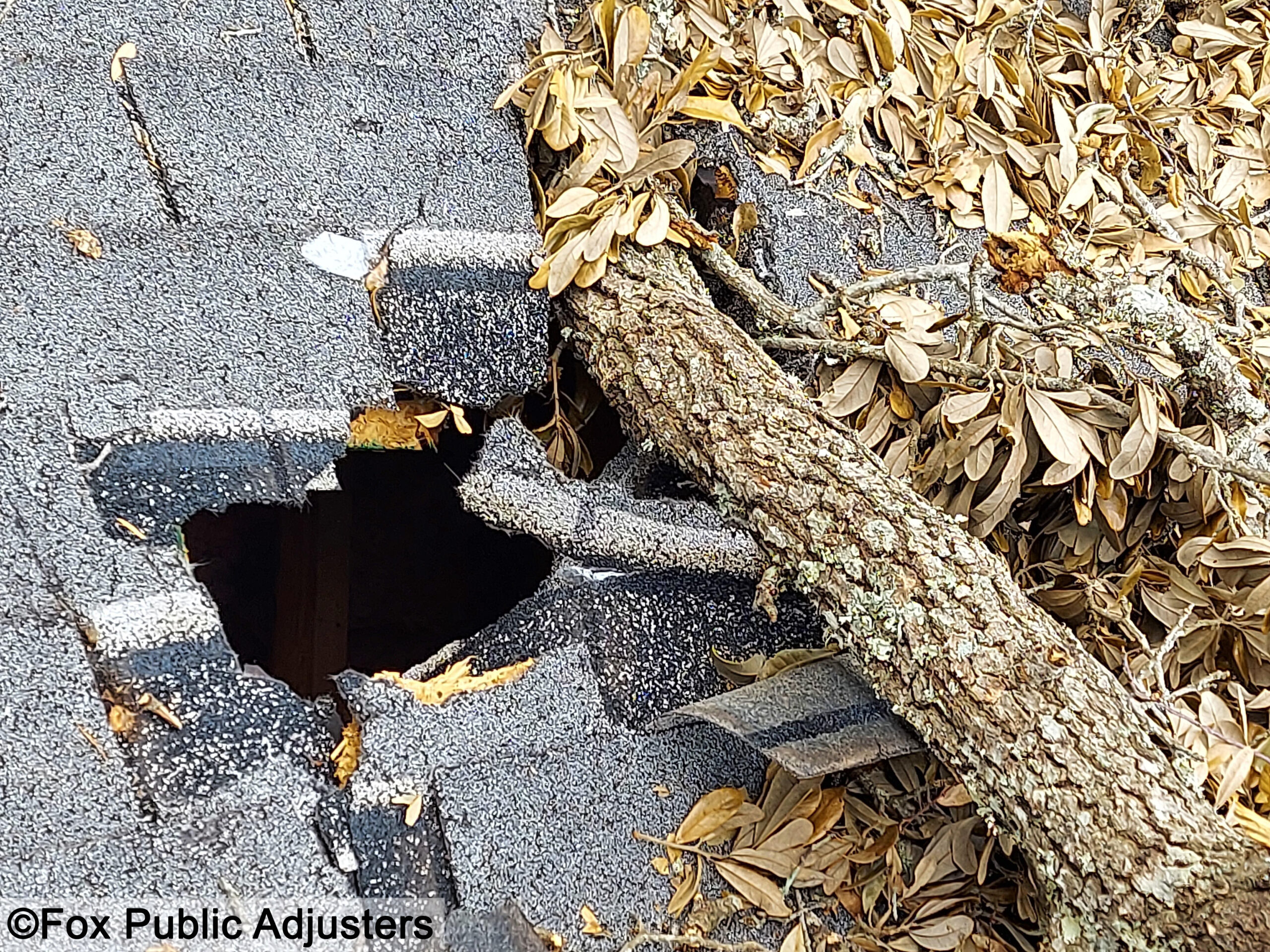 After this storm, our mission was to inspect roofs, and cover homeowner's roofs with special tarps designed to prevent additional rain water from entering homes.   Covering theses roof holes and cracks was the first step in helping these Palm Beach County homeowners from facing additional damage .  In addition to covering the roofs, we immediately got in touch with our mold removal company to start removing any mold and contamination.   This is a time when acting quickly is in our clients best interest. Due to more rain in the forecast, these roofs had to be covered quickly.   Check out this photo of a roof we just tarped.
At least with the roof covered, these homeowners are not going to worry about further roof damage.  It's been a while since we have been hit with ongoing rain like this.  However, in our business, we must be ready for any weather related storm damage that can occur here in South Florida and Palm Beach County.
How could a Palm Beach County homeowner determine, who is the best Public Adjuster? 
In Palm Beach County, homeowners have plenty of public Insurance adjusters to choose from.  One Internet search will produce a wide range of public adjusters who make all sorts of claims. Many of  these companies make statements that are simply unrealistic.  Some of these public adjusters claim large settlements before they have even inspected a specific home.
While reaching out to a public adjuster is a great idea, the key is to contract with the right Palm Beach public adjuster.    With this in mind, the question becomes one of, who is the best public adjuster?  Below are some helpful tips and idea's to consider when hiring a public adjuster in Palm Beach County.
Don't allow a roofer or repair person to file an insurance claim.
Homeowners should beware when local contractors, roofers or home repair companies offer to repair your home and file your insurance claim.  In some cases these contractors will ask you to sign over your settlement check to them.
Your local contractor, roofer, or remediation company should not be the one to handle your insurance claim.  In many places, if your home repair contractor offers to collect insurance money, or represent you as a homeowner, they are committing a felony.   After a natural disaster, we have seen plenty of contractors offer to fix home damage, and then collect the insurance fee.  One of the big problems with this scenario,  is the fact that there may be additional damage that the contractor didn't account for.  For example, a roofer, my fix your roof, collect your insurance check, and then leave the mold left by the moisture to grow in your attic.  Weeks or months later, you, the homeowner is stuck, paying for mold removal.  If course the roofer, will tell you, I only do roofs, I'm not a mold person, your on your own.
When you have your home inspected by a licensed public adjuster, you are receiving help from someone whose only interest is helping the homeowner recover from all the property damage what occurred.  This means, the initial damage, and any other damage that may have resulted from the initial damage.  For example, Let's say, have roof damage, and the result is, water intrusion which soaks the insulation in your attic.   A Palm Beach County public adjuster will work with your insurance company to reach a settlement that covers the cost of the roof repair, the replacement of the insulation, any mold removal that is required, and any damage to your homes walls, floor, ceiling, or electronics that resulted from the water damage.
We handle much more that storm damage claims.
Keep in mind, a public adjuster, doesn't simply handle weather related damage, or storm damage.  A public adjuster also works with homeowners in regards to other types of home damage.  For example, broken pipes, leaks from appliances, smoke and fire damage, home damage resulting from lightning strikes and a wide range of other types of home damage.
So you decided to seek the help of a public adjuster.  Now the question is, which one?  Of course, in this article, I'm going to say, call us at Fox Public Adjusters, (561) 789-4369   However, since the purpose of this article is to help all homeowners, I'm going to provide useful information to help anyone who has home damage, whether they are located in South Florida, or any other part of the country.
Make sure your Public Adjuster is Licensed.
The first requirement a homeowner should demand is that the public adjuster is licensed.   Some public adjusters work under the license of another company.  This means that they are not responsible if there is a problem.  As a Palm Beach County Public Adjuster we are fully licensed and credentialed.  Of course we are also experienced, reputable and have many credentials.  In addition, we are members of several professional groups and organizations.
Some public adjusting companies have a staff of sales people along with several different employee public adjusters.  It's not uncommon for a homeowner have a home inspection by one inspector, and then get passed off to another inspector, or one person doing the sales and another doing the public adjusting work.  When a homeowner calls Fox Public Adjusters Todd personally handles your home inspection and insurance claim.
Our experience as an insurance agent, home contractor and licensed mold assessor, means we know all there is to know about home damage.
When a Palm Beach County homeowner calls us, they benefit in several different ways.  First, we have over 20 years of experience inspecting and repairing homes.  Todd is also a licensed real estate agent as well as a licensed insurance agent.  In addition he acquired a Florida mold assessor license in 2011.  This means that someone who understands how homes are constructed, and how a hurricane, storm or flood could affect your homes structure and integrity will inspect your home.
BELOW:   Once a roof gets damaged, the water from the storm, enters through the compromised roof and travels along the wall beams, through the interior wall, damaging the sheet rock, soaking the homes insulation and allowing mold to grow.  For an inexperienced home repair person a water damages wall may look perfectly fine.  However, one moisture or mold test will indicate the presence to home damage.  Many homeowners believe that leaving the wet wall alone will allow the moisture to dry out and no further repair work would be needed.  However, this is never the case. Once water penetrates the homes interior walls the moisture doesn't usually dry.  What does often happen is what is know as hydrologic cycle.  Check out this kids science experiment on water cycles.  Science lessons for little ones.  In this water cycle, water on the ground, evaporates and collects on the wall beam above.  When enough water has collected to water rains down, pooling on the floor again.  This cycle becomes one of precipitation, condensation, collection , evaporation, this process happens over and over again.  Check out this infographic.  In this situation the moisture isn't the only extent of the damage.  As a Palm Beach County public adjuster handling mold damage claims is a huge part of our service.  Once water enters your home it only takes 24-48 hours for the mold to develop and start growing.  Once mold growth starts, the mold will continue to grow until it's removed by a professional mold.  Check out our article on Mold.  How mold grows after water damage.   I think you will find this article very informative.   If you look closely at the picture below you can see that mold is starting to grow.  When a homeowner reaches out to us for help with home damage, we arrive with the specialized equipment needed to check for hidden moisture.  For more information on mold test equipment click this link.  Mold test equipment.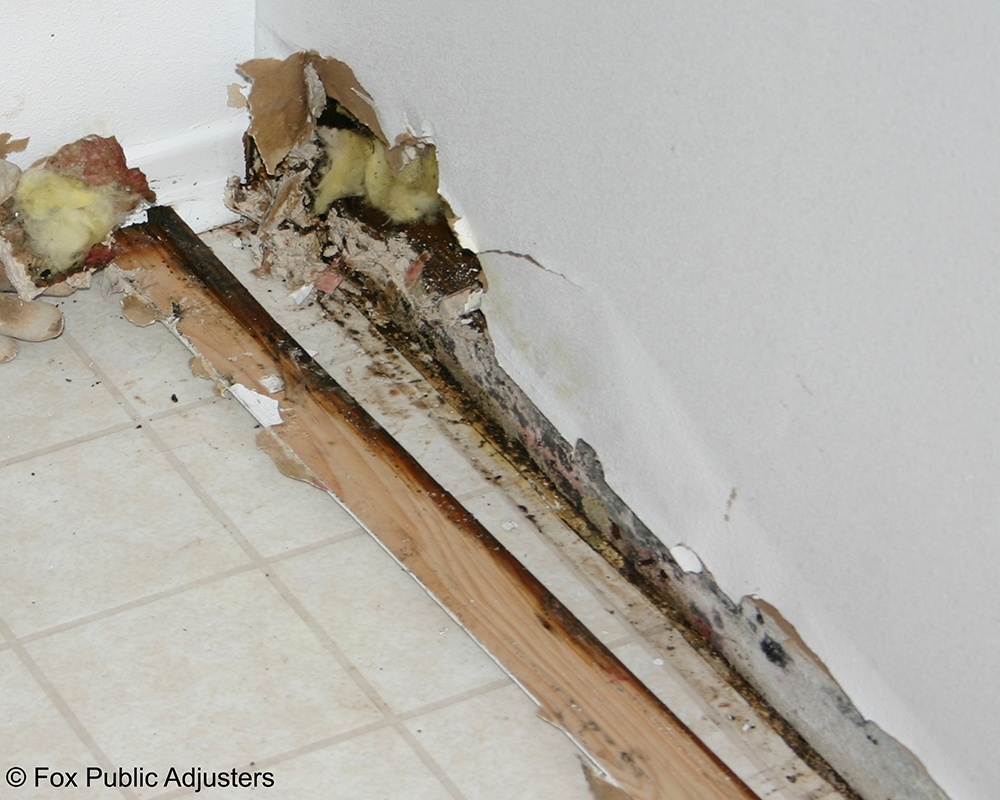 Because Todd is a licensed real estate agent and a licensed insurance agent, he has plenty of experience when it comes to making sure all the required paperwork in in order.  While some public adjusters are experienced in inspecting homes, not all have to additional expertise required reviewing insurance contracts, understanding the insurance loopholes, and making sure all your paperwork is filed correctly.
If your insurance claim has been denied we can reopen your claim.
As stated above, many of our clients initially call us because their home insurance claim has been denied.  Imagine, the aggravation a homeowner feels when faced with home damage.  Then dealing with their insurance claim, and finding out that their claim has been denied.   In many cases an insurance company adjuster will verbally deny a claim before even submitting the claim to the agency.   This happens time and time again.  There are lots of reasons why a home insurance agency will deny a claim.
While it's true that some of these reasons are valid, many are not.  Only by having us review your insurance contract, inspect your home, and then issue our assessment, can we determine if your insurance claim could be re-opened and further home damage added to your settlement.  Most of the time, we find, even if a claim has been denied we can re-open the claim resulting in a larger settlement.
We have a long history of happy grateful clients.
Having a history of happy clients along with lots of positive reviews is also something to consider when choosing a public adjuster.   If you would like to visit our review page click here:  LINK.  In addition, if you would like to talk with some of our past clients call us for some references.
November 7, 2020 update.
Tropical storm Eta heads to South Florida: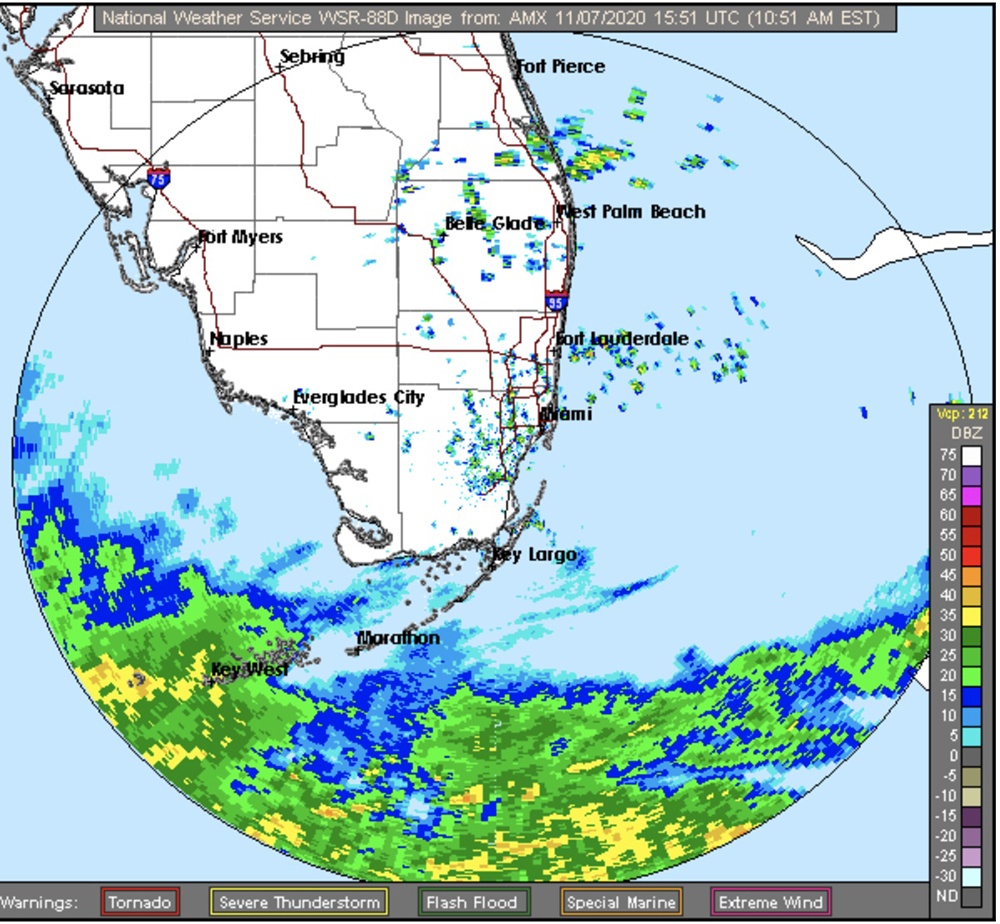 Tropical storm Eta is currently over the northwestern Caribbean and heading to South Florida and Palm Beach Counrty.  Although Eta is a tropical storm and not a hurricane, homeowners are urged to check their homes and make sure that their their roofs are free from roof damage that can result in a leak or any form of rainwater intrusion.  Although their may not be time to have your roof repaired, a roof that has missing or broken tiles should be covered.  Any holes or cracks in you roof should also be covered.  Tropical storm Eta is expected to bring large rain showers over an extended amount of time.
For more information on Eta visit the NOAA website here:  National Oceanic and Atmospheric Administration  This website provides a wide range of information regarding, how to prepare for a tropical storm such as Eta.  It also gives tips on how to stay safe during a storm or hurricane.  You can track storms and hurricanes using this website as well.   When a storm or hurricane hits Palm Beach county, homeowners in Palm Beach County and all of South Florida could find this website as a great resource.
In addition to maintaining your roof, homeowners should check their property for any places in which flood waters may enter their homes.  Pooling water by a entryway could enter your home causing serious water damage.  Once your home has sustained water damage, it's important to have the water removed immediately.  By calling a water removal company such as Get Dry Inc  You can be assured that your home will be free of moisture and water damage.  The phone number to Get Dry Inc is (561) 777-2618.
If you have a location in your home in which flood water has entered your home in the past you should consider using sand bags as a way of keeping the storm surge from entering your home.   For an article in where you can get free sandbags click here: Free Sandbags Article.    Using sandbags is one of the best ways to prevent flood waters from entering your home.
In addition to checking your homes roof and entry ways, we also urge all Palm Beach County homeowners to check all their windows & sliding doors to make sure that there seal once closed.  A window that is not sealed correctly can allow rain water to seep in through a damaged molding.   Finally, tropical storm Eta, will also bring some very strong winds.  These winds can break tree branches and cause any loose items in your yard to fly around and his parts of your home or your neighbors home.  Check for garden tools that have not been properly stored, also, if you have any drinking glasses or bottles which may happen to be left outside, they should be removed.  Sometimes storm damage is caused by something simple that has been overlooked.  While Eta is not a hurricane, it could still cause some major home damage.  Securing your South Florida home should be a practice that is common to any homeowner, considering that storms and hurricanes are a regular occurrence in South Florida and Palm Beach County.
If your home has suffered damage from a storm or hurricane, call us for assistance.  We could be reached at (561) 789-4369