Tips from South Florida's best public insurance adjuster.
As an experienced South Florida public adjuster we have handled a wide range of hurricane damage claims.  Often these claims are the result of poor hurricane window protection.  To answer the question, How to protect windows during a hurricane? It's helpful to look back at some of the past hurricane damage claims we have handled.  Often our homeowners have felt that their insurance company miss treated them by denying their claim, or by underpaying the claim.  When this happens it's up to us to investigate the facts, reopen the claim, and get the homeowner the settlement they deserve.
We are based in South Florida and handle property damage claims in all of Broward County, Palm Beach County and Martin County. Over the past few years these three counties have been hit the hardest by hurricanes and storms.  Just look at the flooding that occurred in Boynton Beach last year. Flooding, windstorms and heavy nonstop rain such as this could result in water damage resulting for poor windows maintenance.
We are still a few months away from South Florida's next hurricane season.  Our advise, is to prepare NOW.   Recently we participated in the Boynton Beach hurricane expo.  The goal of this event was to educate South Florida homeowners in all aspects of home protection & safety before, during and after a hurricane hit's South Florida.  While this expo took place in Boynton Beach, residents of Boca Raton, Jupiter, Palm Beach Gardens, Delray Beach, Fort Lauderdale, Deerfield Beach, Wellington Lake Worth and other areas joined us at the hurricane expo.  Below are a few pictures from the Boynton Beach Mall hurricane expo.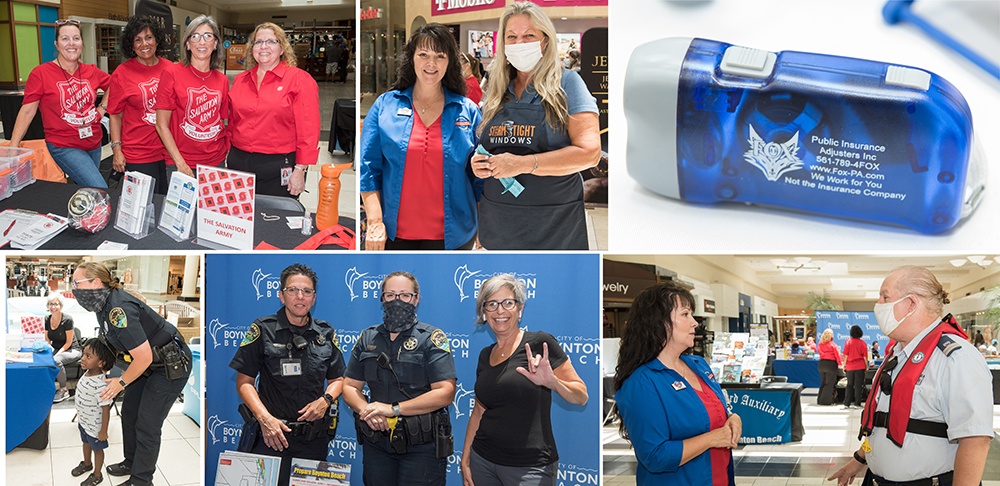 Just last week, Federal scientists at NOAA predicted 13 to 20 with 6 to 10 hurricanes, and 3 to 5 of those hurricanes, Category 3 or greater. The good news is although it is predicted to be above-normal in activity,  many homeowners have learned how to prepare for home damage as a result of last season's destruction.   In our work as a public insurance adjuster, we have found that many residents have started to prepare their homes sooner rather than later.  If you are a homeowner who has not started to prep your home for the future hurricane season, the we urge you to read some of our articles and start gearing up for the hurricane season which starts in the next few months.
Home destruction has increased due to climate change, aging homes, and the fact that more home are being built in South Florida.   If you have not noticed, the population here is growing rapidly.   Instead of just accepting your home will be damaged at one point or another, start with something you can control – your windows!  In our previous blog posts we have covered topics such as, roof damage, broken plumbing pipes, floods, and other safety issues.   Now it's time to talk about windows.
What Not to Do to Windows in any Hurricane
In a straight-talking article in 2019, The Miami Herald discussed what not to do during a hurricane. Thinking about taping your windows? Don't. If debris breaks those windows, it will break into even larger pieces than if you hadn't taped them at all. Those large pieces could cause grave bodily harm. Along with that bad idea, here's another one: Cracking the windows during a hurricane. You're letting the wind in; it will need to escape back out. In the middle of a hurricane, as you see your windows bending, do not be foolish enough to try to lean on them and push them back. Even with your gym workouts, you will not succeed in straightening them out while you are in harm's way.
Read: Stupid things NOT to do before and during a hurricane.
Now that you know one really bad idea during a hurricane. Let's talk about what can you do with your windows that make sense before hurricane season in South Florida?
Plywood May Not Be Your Best Option
Whenever people watch hurricane coverage, residents are shown putting plyboard on businesses and residences. There is nothing inherently wrong with this option, but you will need to have your plywood sheets readily available before the hurricane. You would need to attach them possibly multiple times during just one hurricane season using special screws or bolts. The plywood itself, per The Home Depot, should be 5/8-inch or ¾-inch thick. You need to measure each window, allow for overlap, use a circular saw to cut the plywood, and possibly brace two pieces together if it is a large window. And that's just the beginning of The Home Depot's instructions. Do you really want to deal with plywood before each storm? Don't you have other issues to think about such as evacuation?   Our advise to home and business owners is to prepare well before hurricane season.  Hurricane shutters, impact glass, should be the standard.  If you are using plywood, it's probably because you waited until a hurricane was in the forecast.
Should You Choose Storm Shutters?
In a Home Depot article discussing storm shutters and comparing storm shutters to plywood, the choice is obvious. They are durable and will not warp like plywood boards will and are also strong and more aesthetic. Plywood can be difficult to remove, but hurricane shutters will be easier to take down and put back on as needed once the initial installation is properly done. There are many types of hurricane shutters, made of different materials with different features. For example, the Automatic Roll Down type are made of metal or polycarbonate and have the advantage of being permanently attached although they may cost more. They can also be manually operated if you lose power. Another type often chosen for its aesthetic is the Colonial shutters, which look more like regular shutters when they are not being used and unfold as a storm approaches. You will most likely need help installing most hurricane shutters. There are a lot of discussions on choosing the right shutters for your home, including a July 2020 article in, www.goodhousing.com which chooses a brand of rolling shutters to be its number one choice. Keep in mind that some of these shutters will also provide additional insulation and protect against water infiltration. As for cost, it will depend on the type, quality, and feature of the shutters you choose. Per www.homeadvisor.com, the cost ranges from $5 to $60 per square foot for materials and $45 to $100 per hour for labor.
What About Window Film?
On 3M's website, 3M, a maker of such film, declares that while this film may make window glass more shatter resistant, it is not approved in Florida for "hurricane, windstorm, or impact protection from windborne debris from a hurricane or windstorm" and states that Florida law prohibits advertising it as "impact resistant." So, not a good choice for South Florida. However, do not confuse this with AstroGuard hurricane fabric which is 40% stronger than polypropylene and extremely lightweight. You must use patented clips to attach it to the outside of your house. It also comes in only a few colors. A panel of AstroGuard 100 inches by 204 inches runs about $450 at Home Depot, which is obviously a very affordable option.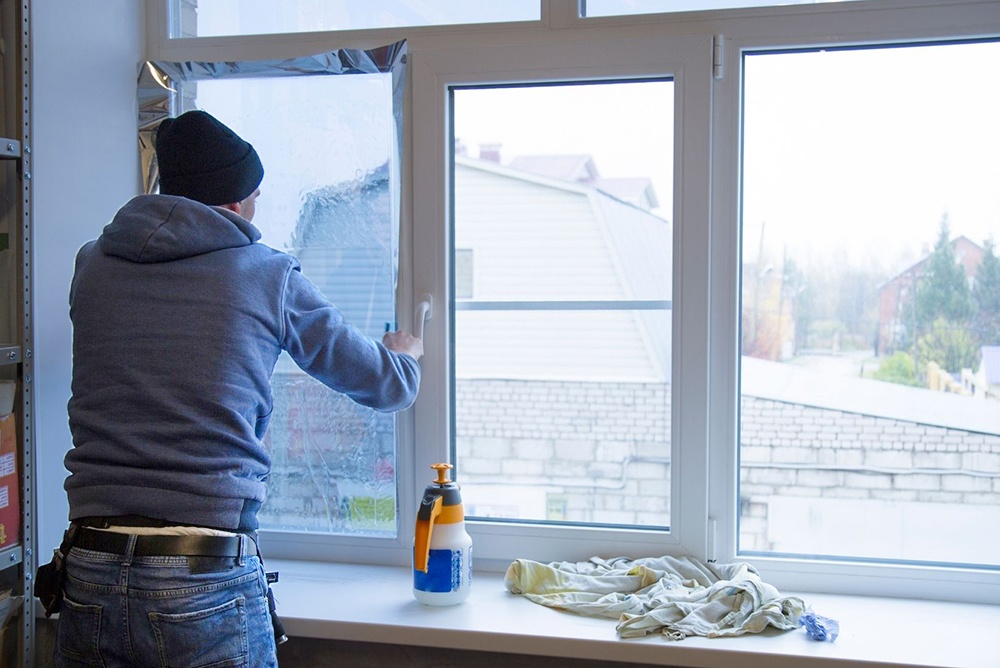 High-Impact Glass Windows
If you are in a frequent storm/hurricane area such as South Florida, these windows could present a great option. The windows, which use safety glass and have other safety features, must be tested and are given a rating known as the Design Pressure or DP rating. They are rated from DP-20 to DP-70 and can withstand from 110 to 170 mile per hour winds, thus deceasing your potential damage. They also reduce outside noise while aiding against break-ins. Unlike plywood, they are permanent; you do not have to pull out something and install it right before a storm when you have more crucial worries to attend to. No, they are not cheap with just one window running from a few hundred dollars to two thousand or more. The installation may sometimes reduce your homeowner's insurance costs. Your peace of mind is worth a lot.
When comparing different options to protect yourself against the next South Florida Hurricane Season, consider that you could choose more than one option. For example, you may decide to use AstroGuard on a very large window or French Door due to the reduced cost while replacing your smaller windows with High Impact Glass. If you have been using plywood only in the past, maybe, you should consider AstroGuard as a less difficult alternative to install, store, and use. Consider if you have a Homeowner's Association and any rules that may apply. Remember to take care of all of your windows, no matter where the storm is coming from. Don't put off your decision as hurricane season is approaching NOW! No matter what you decide, one thing is clear: the status quo is not an option.   As South Florida top rated public insurance adjuster, we have extensive experience handling home damage insurance claims.  We are based in Boynton Beach and handle home damage claims in all of Palm Beach, Broward and Martin County.  In just that past few hurricane seasons we have helped homeowners receive settlements in, Lake Worth, Boynton Beach, Delray Beach, Boca Raton, Deerfield Beach, Ft Lauderdale, West Palm Beach, Greenacres, Palm Springs, Palm Beach, North Palm Beach, Riviera Beach, Wellington, Royal Palm Beach, Plantation, Miramar, Hypoluxo, Lantana, Ocean Ridge, Hallandale Beach.