When a homeowner faces fire damage in Florida, the stress, uncertainty and sadness
It's a given, if you are a homeowner you need insurance.  Of course you hope you never need to put in a claim, but during most peoples life the unexpected happens.  Sometimes the unexpected is only a small distraction.  A small leak, a broken appliance, a repair.  However in the case of a house fire the extent of the damage could be much greater.  In this case the unexpected was fire damage in Florida.  Looking at these pictures it's easy to understand why every homeowner should take an inventory of their fire protection and fire warning systems throughout their home.  Do you own a fire extinguisher?  Is it in good working order?  How long ago was it checked out?  A working smoke detector in your garage is a must as well.  Do you realize how many South Florida homes don't have a heat or fire detector in this garage?   If your home smoke alarm was suddenly triggered, would you have time to grab your fire extinguisher and put out a fire?   If it's a fire like the one in these pictures, chances are, you would not have the time to get your fire extinguisher, let alone fight the fire.  The best decision is to get out, call the fire department.  All the material stuff could be replaced, your life cannot.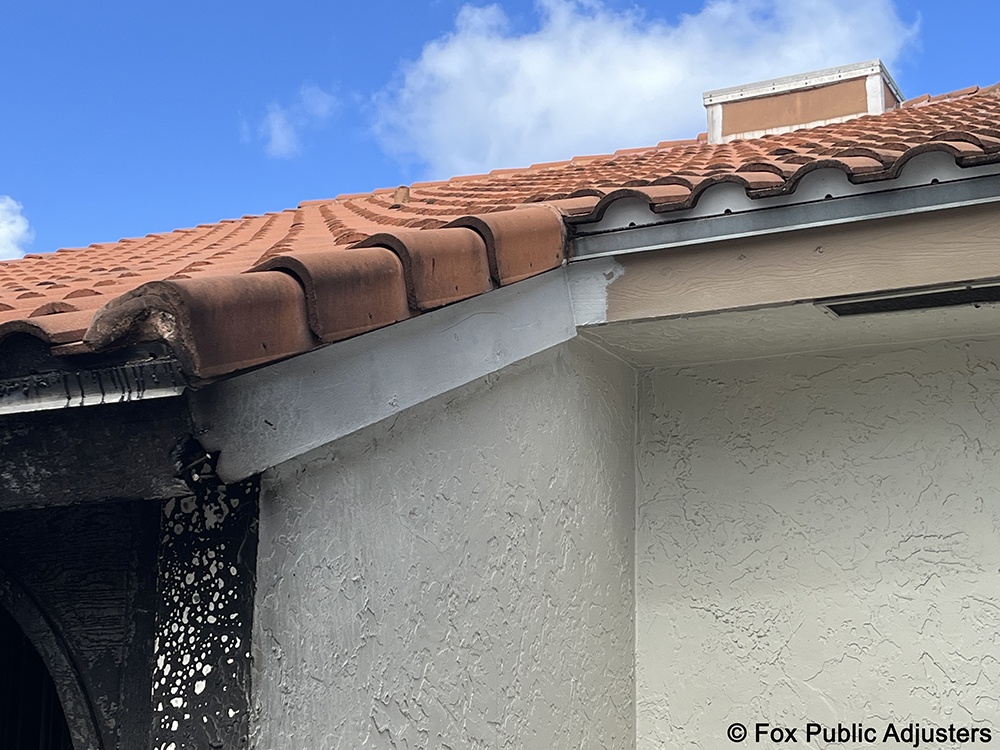 Aside from kitchen fires, many homes which suffered fire damage in Florida had the ignition point start in the garage.  Then the fire grew too quickly and became too hazardous for the average homeowner to handle.  Usually a kitchen fire starts while someone is cooking. They are often instantly aware there is a fire and they can take quick action.  A garage fire is often a different situation.   Since so many homes do not have a fire detector in the garage, "which makes no sense to me."  Because the garage is the part of your South Florida home which is usually unoccupied, especially at night, the garage is the perfect place for a fire to grow.  This will allow the fire will spread undetected.  This fire, started as an electrical issue with the homes hot water heater. Electrical wiring malfunctioning is the most common culprit of garage fires.   By the time this fire was detected the only option was to call the fire department.  Always remember often getting out safely and calling the fire department is the best option.
Below are some tips that will help you keep a garage fire from starting and spreading.
If possible, keep the flammable liquids away from the garage. Most of the fire damage in Florida is caused by liquid accelerants.   Liquids such as gasoline, varnish, propane, oil, some cleaning solutions, lighter fluid could be stored in a structure such as a shed that isn't connected to your home.  We realize that in many cases a storage shed my not be an option.  If this is the case, these liquids should be kept in a separate container.
In some cases homeowners may keep their washer and dryer in the garage.  If this is the case with your home, it's a bad idea to keep items such as cleaners and detergents on top of your washer or dryer.
For many homeowners there are never enough power outlets.  However putting too many plugs into an outlet could cause a power overload.  Extension cords with multiple plus attached crates a possible overload, which could create heat and cause a fire.  Home garages are notorious for having too many overloaded outlets.
Keep your garage un-cluttered and do your best to organized.  A messy cluttered garage will give a fire plenty to burn.
Install a heat alarm in addition to a smoke detector in your garage.   Heat alarms are very reliable.  Remember, a fire in a garage could burn and grow unnoticed for a long time.  Also, given the fact that garage fires are so common, it only makes sense to put an alarm in your garage.
Causes of garage fires.
There are many possible causes for a garage fire, these include electrical problems, flammable liquids, car fires, propane tanks,
Garage Electrical Fires.
Recently the U.S Fire Administration stated that electrical fires are the most common cause of house garage fires.  When a home has old electrical wiring, or faulty circuit breakers it's possible for an overload to happen.  Sometimes homeowners will use too many extension cords or daisy chain cords together.  This added voltage could create heat that could cause a fire.
Clutter or too much junk.
Having too much clutter or flammable junk can also lead to a garage fire.   If your garage is filled with useless stuff or flammable junk such as cardboard or wood items any fire that starts can grow quickly.  Think about a wood item sitting in your garage for years.  Over time, the South Florida heat can cause the wood or cardboard to become more and more flammable.  This can even happen with plastic items.  It's always a good idea for a homeowner to clear out the unneeded stuff from the garage.
Propane tanks or flammable liquids.
It only makes sense that most flammable liquids will be stored in a garage.  The garage.  The garage is a usually where cleaning solutions, gasoline, extra propane tanks are stored.   When a propane take develops a small leak it may only take small spark to start a fire.
Garage car fires.
There are lots of ways a car could cause a garage fire.  Over heating engines, gas leaks, electrical problem can all cause your car to burn.
Several months ago I noticed a smell of gasoline in my garage.  At first, I thought this smell was the result of testing my emergency portable gas generator.  If you live in South Florida, you already know that this is a hurricane prone location.  Often after a significant hurricane the power goes out.  Most of the time, the power is only out for a few hours, however in more extreme cases the power could go out for a day or several days.  Owning a gas generator gives many South Florida homeowners the option to power some appliances during one of these outages.  While a portable gas generator won't power your entire home, it should keep your refrigerator running or power a TV for some time.  In the case of my gasoline smell the problem was my cars fuel injection system.  One of the plastic parts became brittle and cracked causing a fuel leak.  It became apparent when the car was parked outside and the gas smell stopped.  A hot car with a gas leak under the hood pulled into the garage.  This situation could have easily burned down my house.
Home fire insurance claims.
Once your home is fire damaged, the next question becomes, now what?  Do I let my home insurance company handle this, or call a public adjuster?  To answer this question you should know the difference.   In this website there are lots of articles that explain the difference between a public adjuster and your insurance company adjuster.    Basically a company insurance adjuster gets paid and works the insurance company.  A public adjuster gets paid based on the settlement amount and works for you, the homeowner.  What does this mean?  First, it's in the best interest of the homeowner and the public adjuster to make sure that your home is restored back to its pre-fire condition.  This means replacing every single damaged beam, brick, window, floor or anything damaged with a new one.  If the public adjuster determines that your home needs to be completely rebuilt a public adjuster will let the insurance company know this is the case.  Public adjusters are licensed by the state and work with insurance companies on the homeowner's behalf.  Considering the fact that the public adjuster's goal is to make certain the homeowner received the highest settlement, a public adjuster understands much more than simply how to handle a claim, they also know how homes are constructed.  Take for example, us.  Todd the owner of Fox Public Adjusters.  Todd has years of construction so when it comes to home damage claims he knows what a quality restoration job should cost.  As a matter of fact, Todd designed and built is own home.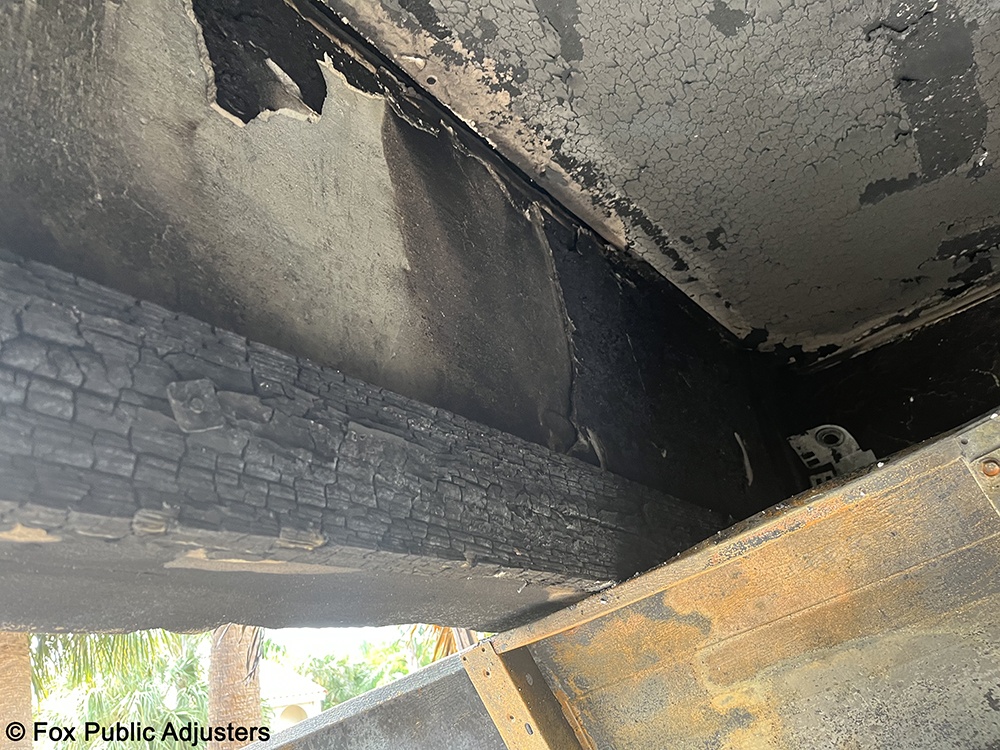 This is incredibly important because as a contractor, Todd understands the difference between a quality home restoration job and a cheap cost cutting job.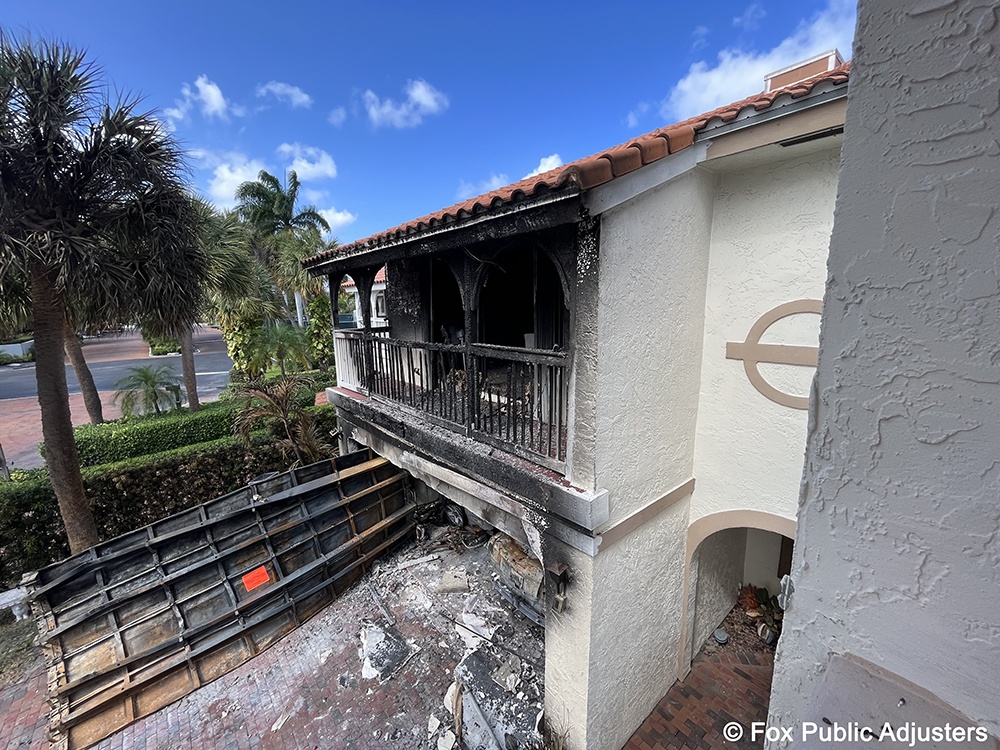 Not consider the company insurance adjuster.  A company insurance adjuster is an employee of your insurance company.  It's common knowledge that the main goal of an insurance company is to make a profit.  This means that they must constantly watch the company's bottom line.  Check out these articles on how insurance companies profit by cutting costs.
This ultimate guide on hiring a Florida Public Adjuster  will help you decide if a public adjuster is your best option.  In this guide we cover topics such as What does fire insurance cover, smoke damage, and water damage.  Keep in mind, when fighting a house fire, the fire department will use plenty of water.  This means that in addition to just the fire, there may be a water damage claim as well.  In addition check out this picture at the very bottom of this article.   Firefighter are not going to remove their shoes so the don't dirty the carpet.
Why hiring a Florida public adjuster is a smart decision. – Not sure if hiring a public adjuster is a smart choice.  This article will lay out the reasons why hiring a public adjuster is the most worth while decision a Florida homeowner can make.  Topic included in this article include, the difference in settlement size when you hire a public adjuster, vs not hiring a public adjuster.  Also included you will learn about some of the tactics company insurance companies use to reduce this costs and save company money.
Managed repair tactics.  Have you ever heard of managed repair?  You may have a managed repair clause in your insurance policy.  Read this article and then let us at Fox Public Adjusters review you policy.  You can reach us at (561) 789-4369
What makes Fox Public Adjuster your best choice?  Read this article and see our reviews.  There are many public adjusters in Florida, but only one Fox Public Adjuster.  Over 25 years of experience, home building experience, water damage experience & working as an former insurance agent means we are your best choice in when choosing a Public Insurance Adjuster.