If you live in South Florida extreme weather, roof damage and wind damage is something you may be all-too-familiar with.  You can avoid some of this by reading these tips from Fox Public Adjusters.
Whether roof damage results from wear-and-tear over the years, or a more momentous single event, such as a hurricane, windstorm the result is the same, "Money spent and home damage" – a call to a public insurance adjuster in South Florida could insure your insurance company restores your home.  In addition, by taking some extra precautions to safeguard your home you may be able to avoid some of this home damage.
This article includes  tips to protect your roof and save on home damage repair.
1.SECURE ROOFING
Depending on the type of roofing you have it's important to have your roof inspected every year.  As a Public Insurance Adjuster in South Florida, we have found that different types of roofs require different types of maintenance.  For example, clay roof tiles could be prone to crack from extreme heat or when hit with a small piece of flying debris.  Some metal roof panels could become pried off by heavy winds.  Then there are the asphalt shingles, which are less expensive and attractive.  Over the past few years many homebuilders have gravitated away from asphalt shingles because they don't stand up to the strong South Florida winds during hurricane season.   No matter what type of roof your home has making sure your roof is secure is critical.  After a hurricane or serious wind related event, we have responded to South Florida homes that have had their roof completely ripped off.  The keep to preventing roof damage, is to secure your roof from all angles.  Roof damage, will become worst and worst the second the damage starts.  For example, in the case of clay tiles, the first flying tile could affect the next attached tile.  Or a flying tile will hit and break another tile, which will break into pieces damaging more tiles.  This chain reaction will continue until a large portion of your roof is damaged.  This type of scenario happens with all types of roofs.
2.INSPECT THE OUTSIDE OF THE ROOF
The roof is your house's first line of defence and can take a real battering when adverse weather arrives. Proper maintenance and care always pays off in the long run.  Before the start of hurricane season, it's important to inspect your homes gutters.  In a storm your homes gutters act as a drainage system, insuring that water gets moved away from your home's roof.  A gutter problem could cause water to pool on or around your roof, resulting in significant roof damage.  In addition a blocked gutter can cause water to spill onto the side of your home eventually working it's way to the inside of your homes siding.   Once water gets behind your home's siding, mold growth could start, wood rot could start and foundation damage could occur.  One recommendation is to hire a roof inspector that uses a drone to fly over your roof and inspect for damage.
Action plan:
Inspect the vents, grains, flashing, and gutters.
Repair anything loose before it becomes a bigger problem
Clear any clogged gutters or downspouts
Get rid of any loose debris on the roofing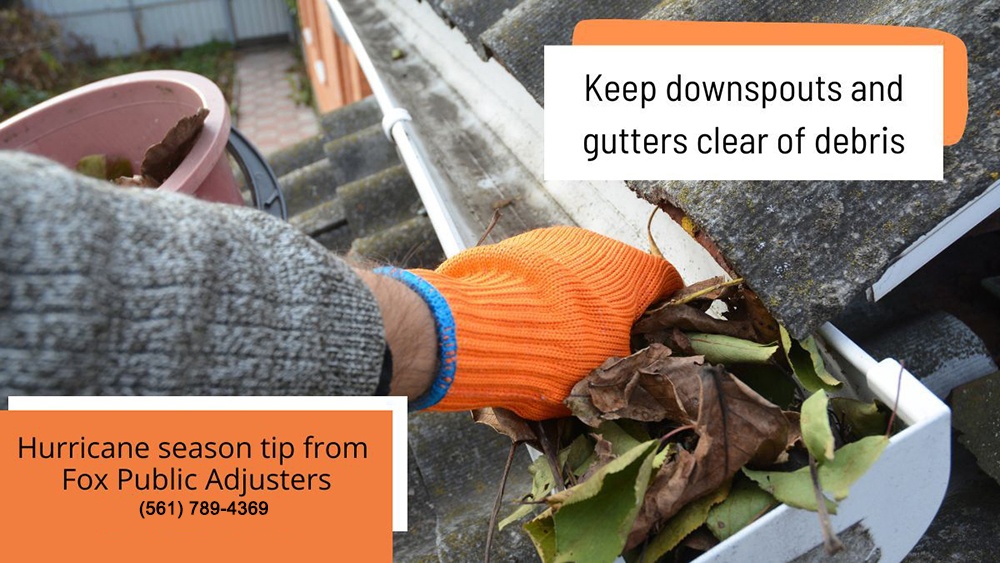 3.INSPECT THE INSIDE OF THE ROOFING SYSTEM
Now it's time to check the inside…
We recommend using goggles and gloves to stay safe while you have a look!
When roof water damage occurs the evidence isn't always visible from the outside.  However, an inspection of the inside attic can reveal any damage areas.  Water soaked wood will discolour and remain visible for a long time.  Also, mold & wood rot can be easily seen from inside the attic, with a light of course.  Does your attic have a strange odor?  Mold often smells like old socks.  As a South Florida public adjuster, we are experts at detecting mold, water damage, and other types of home damage.  It's safe to say, in our line of work, we spend lots of time inside home's attics.
Action-plan:
1When inspecting the inside, check for water spots in the wood roofing.
2 Take note of any odd smells.  If you suspect something is wrong, don't try to handle if.   We are experts at working with mold and water damage insurance claims. To learn more about mold damage check out our helpful articles.  Mold and your appliances.     How fast does mold grow?  Mold removal
Yourself.  Call us at (561) 221-0913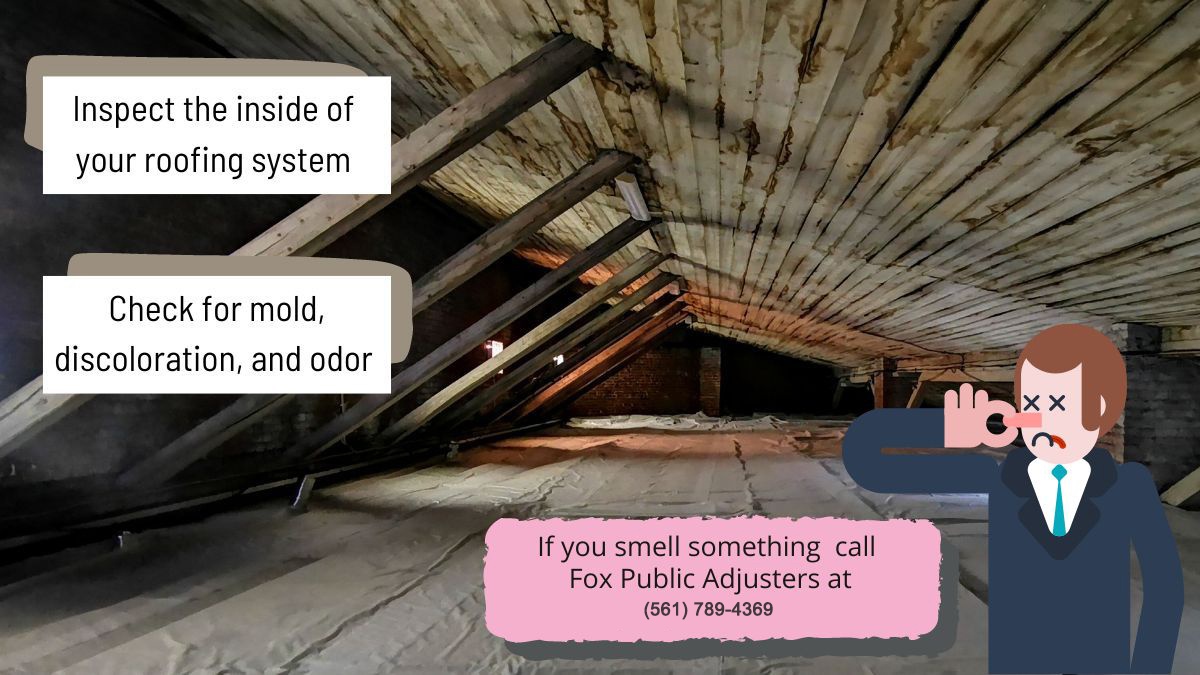 4.REMOVE TREES NEAR THE ROOF
A home with beautiful trees in the yard is certainly a pretty sight and trees certainly offer many aesthetic benefits to your home.  However a tree, which has, branches too close to your home could be a big problem.  In a hurricane, those branches often become projectiles that could punch a hole in any roof.
Fallen trees or branches pose a serious threat to any South Florida home potentially exposing your home to rain and wind.  After a hurricane or storm, we get calls from more than our fair share of frantic homeowners who have suffered roof damage, broken windows, flooding, and smashed home siding.  In addition, a homeowner should also make sure a tree in the yard doesn't encroach too close to a neighbors home.  We have seen many situations in which a home has suffered damage as the result of a next-door neighbours tree.
Action-plan: Trim/get rid of any trees branches near your or your neighbors roofing.
5.SECURE SHINGLES
Loose shingles are easily blown from your home when strong winds hit them, making the house vulnerable to rain and a call for emergency roof repair!
If you have any loose shingles, NAIL THEM DOWN!
Keep overhanging branches and trees trimmed and away from your roof. This helps avoid damage from falling branches and minimises wear and tear from branches scratching your roof under strong winds.
Action-plan: Secure loose shingles, using at least six nails on each. And caulk the edges too. (For extra protection, you can even install waterproof layers under the shingles.)
As the top Public Insurance Adjuster in South Florida we are happy to offer a free home inspection.  If you suspect you have roof damage or mold damage call us at (561) 223-8741  We cover all of South Florida including , Miami All of Broward County,   Martin County, Palm Beach Gardens, Fort Lauderdale, Boca Raton, & All of Palm Beach County
At Fox Public Adjusters, we are always here to help South Florida residents and the community.